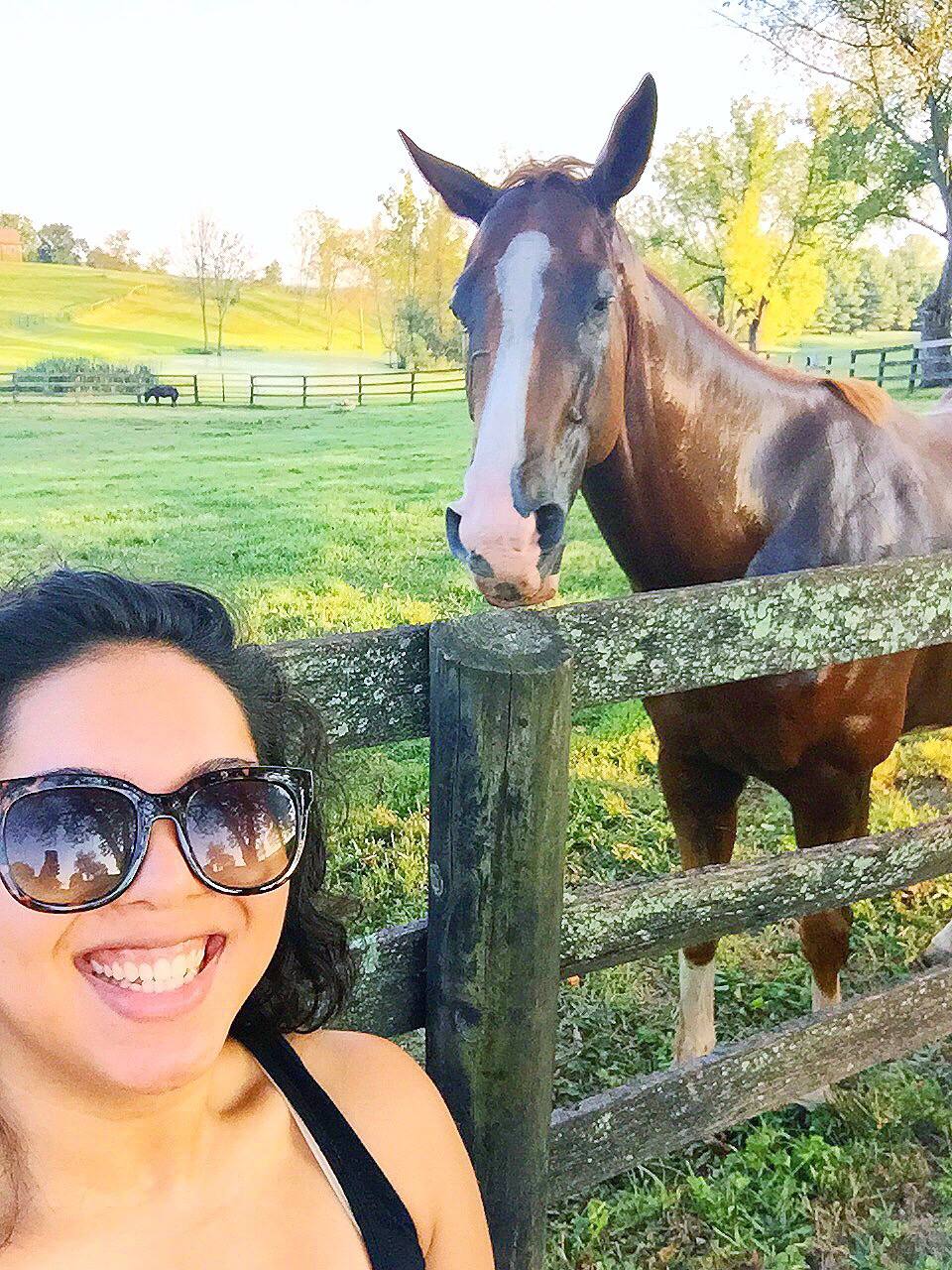 *Random selfie of me with a horse has nothing to do with today's post except that I was really proud to capture the selfie (er, horse-fie?) and felt like sharing.*
Feeling // really happy that the craziness of jam packed summer weekends are slowly coming to an end. I finally have a weekend with nothing planned this weekend and I can't wait to do nothing!
Eating // alot of freezer food. The fridge at our new place is super old and after a month of living there, I've determined that our food has been decaying at a much quicker pace because the fridge is barely cold. I have the setting all the way to "coldest" but there is literally no cold air blowing around inside. Thankfully, the freezer works just fine so we've been eating frozen meals for these past couple of weeks. Seriously hope our leasing office will hurry up and inspect the fridge soon. Cross your fingers for us that they replace it!
Drinking // iced water with green tea matcha powder almost every day. It's seriously the bomb diggity. I used to drink matcha tea hot but after this summer, I now prefer to drink it cold with ice.
Practicing // consistency. Consistency when it comes to working out at least 5 days a week (not quite there). Consistency when it comes to eating better. Consistency when it comes to blogging at least twice a week (I was doing really good for the month of August but then fell off these past 2 weeks). Because the more I practice consistency, the easier it gets. Kind of.
Mastering // PIIT28. Or at least, attempting to. What does it stand for? Pilates Intense Interval Training by one of my favorite Youtube workout personalities, Cassey Ho. It's a new workout plan I started last week and it's tough in a good way. More on this to come soon!
Learning // how to set up Mailchimp so you all can subscribe to setarra.com via email. I'm not a big fan of daily blog email updates. I'm thinking a weekly email update might be more my style.
Playing // Scrabble, Mancala and Phase 10. Those are the board and card games I've played over the past couple of weeks.
Finishing // up the laundry. Or at least attempting to. Ugh, never ending laundry… Never ending folding. The cycle never ends.
Reading // articles upon articles about audience engagement and retention for one of my arts management classes.
Enjoying // the process of getting our #blackandyellowhome all home-y and shiut. Never thought I would enjoy this "domestic" part of adulting but it's growing on me.
Listening // to all things reggae today while I'm at work. It's a Friday ritual that gets me through the day and ready for the weekend.
Contemplating // a new header and blog design for this space.
Lusting // after a tripod. My tripod broke this past May hence the lack of self portrait sunday posts… But I finally ordered one yesterday and it should arrive by the end of this week! Excited to get back in self-portrait zone.
Wearing // these super comfortable boyshorts from Victoria's Secret all day every day while at home. Nothing but my T-shirt and my boyshorts = my at-home uniform.
Wondering // why mosquitoes love me so much? Your girl has about 7 mosquito bites from being outside for less than 2 hours last night. 2 on my lower back. 3 on my ankle. 1 on my elbow and another on my forearm. And let's not forget the one on my forehead… Meanwhile, Charles didn't get bit by anything last night and he was wearing less clothes than me!
Loving // The Get Down on Netflix. An urban/hip-hop musical set in the Bronx in the 70's, each episode is an hour long and has had both me and Charles glued to our couch these past couple of days. If you haven't watched it, you're missing out!
Working // on bringing some purposeful romance to my marriage. Not that anything is actually wrong, Charles and I doing really great in the love department. It's the dating part that has been missing over these past couple of months. Date nights need to make a come back.
Travelling // to no where at the moment. Aside from my trip to Charleston earlier this year, travel has been pretty low key  since we've been focused on saving and moving/settling into our new place. But, we are…
Planning // an October trip to celebrate Charles' 30th birthday! Flights and Airbnb are booked. Now we just gotta figure out what we want to do while we're at our chosen destination. More on where we're headed as we get closer to the departure date. :)
Wanting // to know how life is happening on your side of the online world? Let me know in the comments below :)
0