Phew! I'm finally done… Finally done with WEDDINGS for 2012!!!
I am officially back from spending a 3 day weekend in DC to hang out with my Fam and escort Charles to Wedding #6! And that's that. No More! At least … until next May 2013…. (So far that's my only invite for next year…) I'd like to first off thank everyone who got married this year for inviting me in the first place. I had an amazing time celebrating and basking in the love … And the open bar ;) I'd like to thank Charles for being soooooo handsome in his fancy attire. I'd also like to thank Charles's mom for setting me up nicely and showing me how to shop the clearance section at JC Penny's! Going to 6 weddings is not cheap when you're trying to figure out what to wear as a guest!!! (The red dress I'm wearing in this post … $19.99!!!)
And then there's my baby sister, Gigi … She's just so darn cute!!! Despite the age difference (I'm 25, she is 3), nothing beats having her yell my name "Tarra!" at the top of her lungs when she realizes it's me knocking on the door to visit. Growing up with 4 brothers, I was always the only girl. But then my dad out of nowhere popped out my sister 3 years ago (he's a seahorse) … And even tho my bros and I were caught off guard by this unexpected birth … How could you not fall in love with this cutie pie!?!?!?! She's a little diva with a heart of gold and I like to think she will follow my lead when it comes to developing her personality and drive ;)
Enjoy Some Photos From This Weekend!!!
My brother, Gabriel … And his Fro.
My dad, Gabriel, and Gigi … Giving my bro the smackdown <3
#minime
Dear Daniel Craig … You are preserving very nicely …
Charles and I went to see Skyfall … Adele sings her ass off for the intro credits …
I liked it.
On our way to the Hotel Monaco in Gallery Place for Wedding #6
#homesweethome
Such a lovely couple :)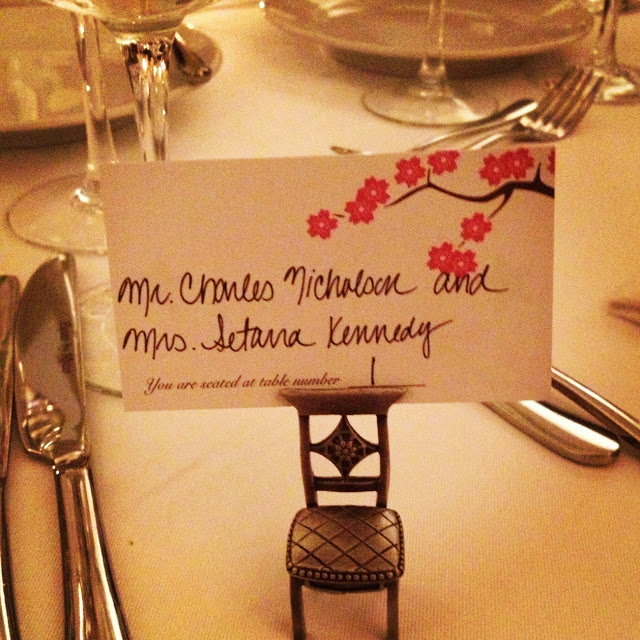 That moment when you see the table placement and they have you down as "Mrs."…
Nope … We are not next lol
#aintnoringonmyfinger
Mr. Debonair and His Lady in Red <3
A little blurry but I like it :)
Back Story for the Pic Above:
This lady was so excited to take a picture with us
("cuz we were the best dancing couple" lol ) at the wedding reception that she
kicked up her leg for joy and her shoe flung up behind us all the way behind the
bar area! #capturedmoments #goodtimes with the #cougar
Missed Out on the Other Weddings From this Past Year???
You Can Catch Up Below!
xo, Setarra
0