How does one begin a post that concludes a series of posts about a trip that happened this past January? It took me a while to figure out how I wanted the shizz to go down but I feel like I've figured out an appropriate ending. And so… I present to you an accumulation of memories from my trip that I couldn't find a place to talk about in my previous posts about Barbados. And then if you have the time to read through it all, there is a video of our trip I put together at the end of the post :)
Memories From Barbados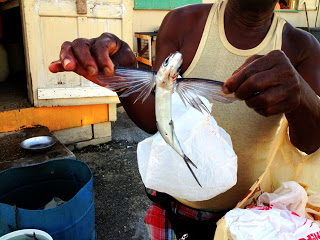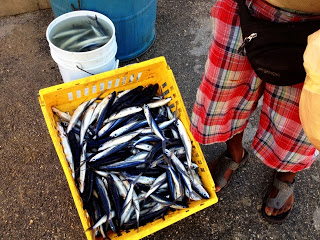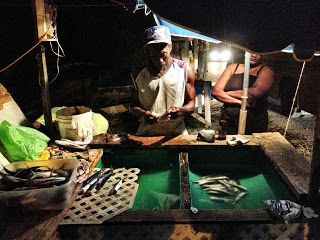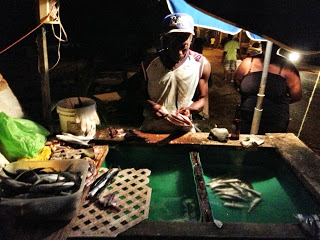 1. Hanging out around 6 Men's Fishing Village.
The first place we went to after our plane landed on Barbados was 6 Men's Fishing Village, where Smitty dives and spearfishes. We ended up going back a few more times during the week and every single time we went, I had a great time talking with the locals, learning about different fishing techniques and the importance of fish to the economy and livelihood of this village. I also learned about an event that takes place every year where representatives from different fishing villages in Barbados come together to hold a competition to see who can de-bone a fish the quickest and cleanest. It's a big event that brings pride and bragging rights to the village that wins.


2. Drinking Banks Beer with every meal.
3.
Watching a real live Cricket game for the first time ever.
Do I know the rules of the game and how it works? Nope. But it was supercool to watch and try to understand a sport so dear to the hearts of the people in Barbados. Cricket & Soccer … These folks don't play around. They are sooo passionate about these two sports. Basketball is on the come up on the island. Charles saw a couple outdoor courts with people playing b-ball. Football … As in American football? The people could care less lol.


4. Falling in love with the signature hot sauce and adding it to ALL of my meals for 3 days straight…
Only to learn the hard way that it burns much more coming out than it does going in… I bought a bottle of their hot sauce as my souvenir. Moderation is key haha.
When I first started blogging, Malou's blog was the first blog I ever followed and connected with. So when I decided I was going to Barbados, I sent her an email asking about places to check out on her island and the rest is history. This was my first time meeting another blogger in real life and I'm soooo glad it happened. Malou is a supercool chick with a passion for travel and working towards raising the standard of diabetes care and awareness in Barbados where almost 40,000 inhabitants have diabetes. We met her for dinner one night and then hung out with her friends for a game of "Cranium"… My team won hehe. She recently submitted an awesome video for Biggest, Baddest Bucket List Competition with Barbados as her destination. Please go
check it out here
and make sure to vote for her! Hope to see you again in the future Malou!


6. Having my legs get torn apart by the mosquitoes…
I swear the mosquitoes in Barbados were track runners in their previous lives! Like forreal … I never saw a mosquito with my bare eyeballs during the trip and yet, those are my bitten legs … They even bit the bottom of my feet … Who does that? lol The mosquitoes in America must be out of shape because I always see them on me and have time to smack them off.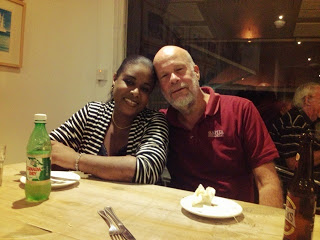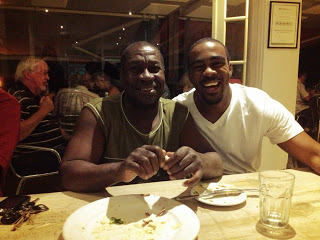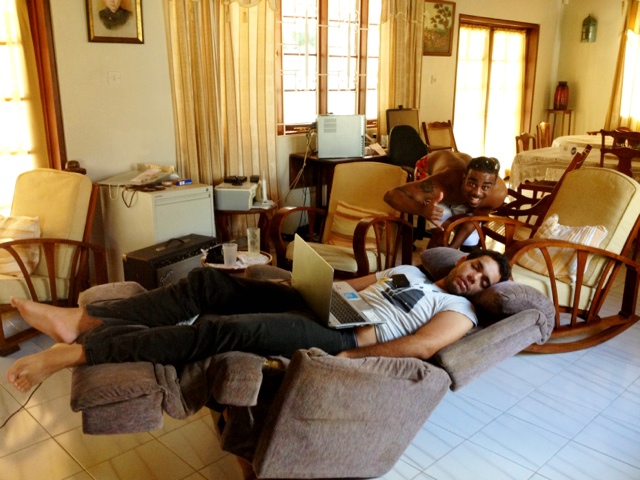 7. Hanging out with Smitty and his friends and family :)
I cannot express enough gratitude towards Smitty for opening up his home to Charles and I for our trip. The hospitality, taking us to go grocery shopping, cooking us fish for breakfast, showing us around the island, evening conversations over Banks Beer or rum … He lives an incredible life and yet, remains humble throughout it all. For example: All the fish he catches when he goes diving, he gives away for free to those who need it more. If there is ever a man who truly believes in the ideal of paying it forward, Smitty is the man, man!


8. Going out on a dinner date with the bunbait .
Throughout our whole week in Barbados, Charles and I spent most of our time in group settings. But on my last night there, we went to
Holetown and got dinner at the
Elbow Room
. This restaurant had a nice vibe and we loved the fact that the meal was interactive in that we got to cook the food over a hot stone. It was so romantical <3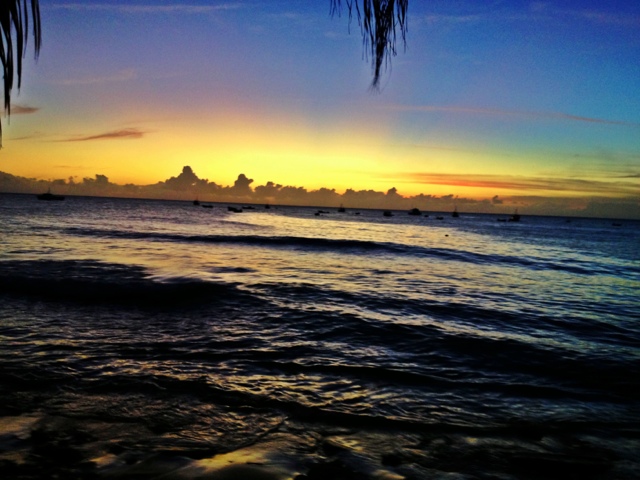 9. Watching the sunset almost every evening …
Because sitting on the beach, listening to the waves hit the shore with the birds chirping in the background is the bestest song on the Mother Earth soundtrack. The icing on the cake: Sharing this "soundtrack" with the lover boy … It really just didn't get any better.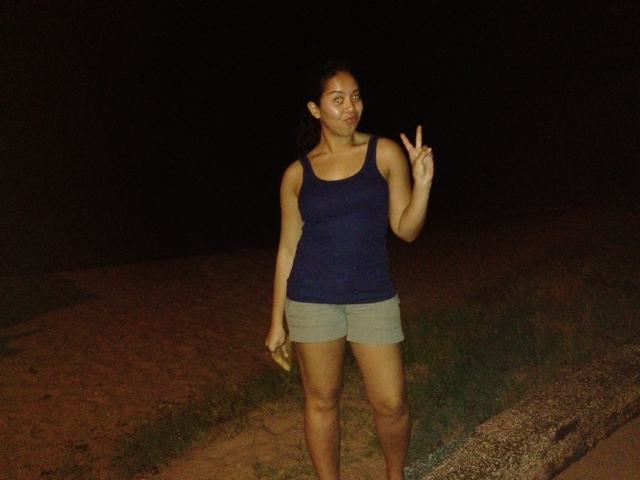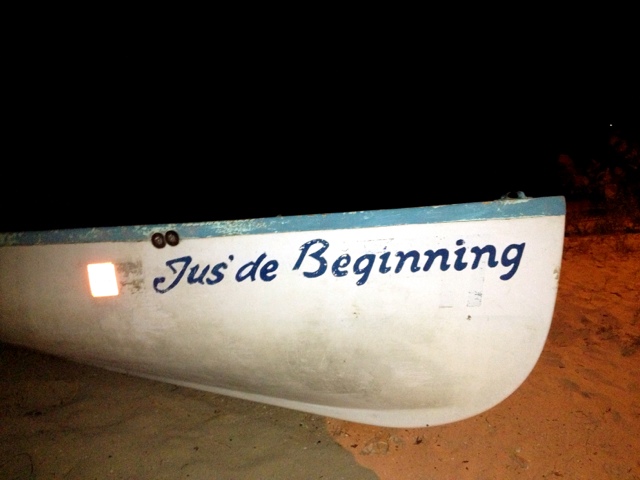 10. Coming across this boat one night and feeling a moment of serendipity.
Because that's exactly how I feel after my trip to Barbados … That this is truly "Jus'de Beginning".

—
Yay! You made it to the end of the post!
Which means I now get to share the video of our trip! I hope you enjoy the video and if you ever are thinking of a place to visit, Charles and I give Barbados Two Thumbs Waaaay Up! For such a small island, it has sooooo much personality and a plethora of history to learn about. The people are smart, love to debate and discuss everything. It was really invigorating to be surrounded by progress driven people. One week was NOT enough but I feel like we did a great job of seeing as much of the island as we could in that short amount of time. Charles and I are already thinking about coming back to this beautiful island again at some point in the future to check out their
Cropover
festivities.
Disclaimer: There is some kissy kissy in the video. And also… Because Youtube is a Grinch with copyright laws, my video cannot be view through any mobile devices. So please make sure to come back later to view the video if you're reading this post through your phone.
{Make sure to change the setting to 720HD for best quality viewing!}
And yes … James Black & Yellow Cake are our nicknames.
In case you haven't noticed … We are Black & Yellow ;)


Missed Past Posts On My Trip To Barbados? No Worries … You Can Catch Up Below :)
—
xo, Setarra
Linking Up With:
0