As a devout American tea lover, I've always felt a little out of place living in U.S. Like maybe I should be living in Europe or Asia, where the culture of tea is majorly embraced…
Because in America, the coffee lifestyle rules above all else.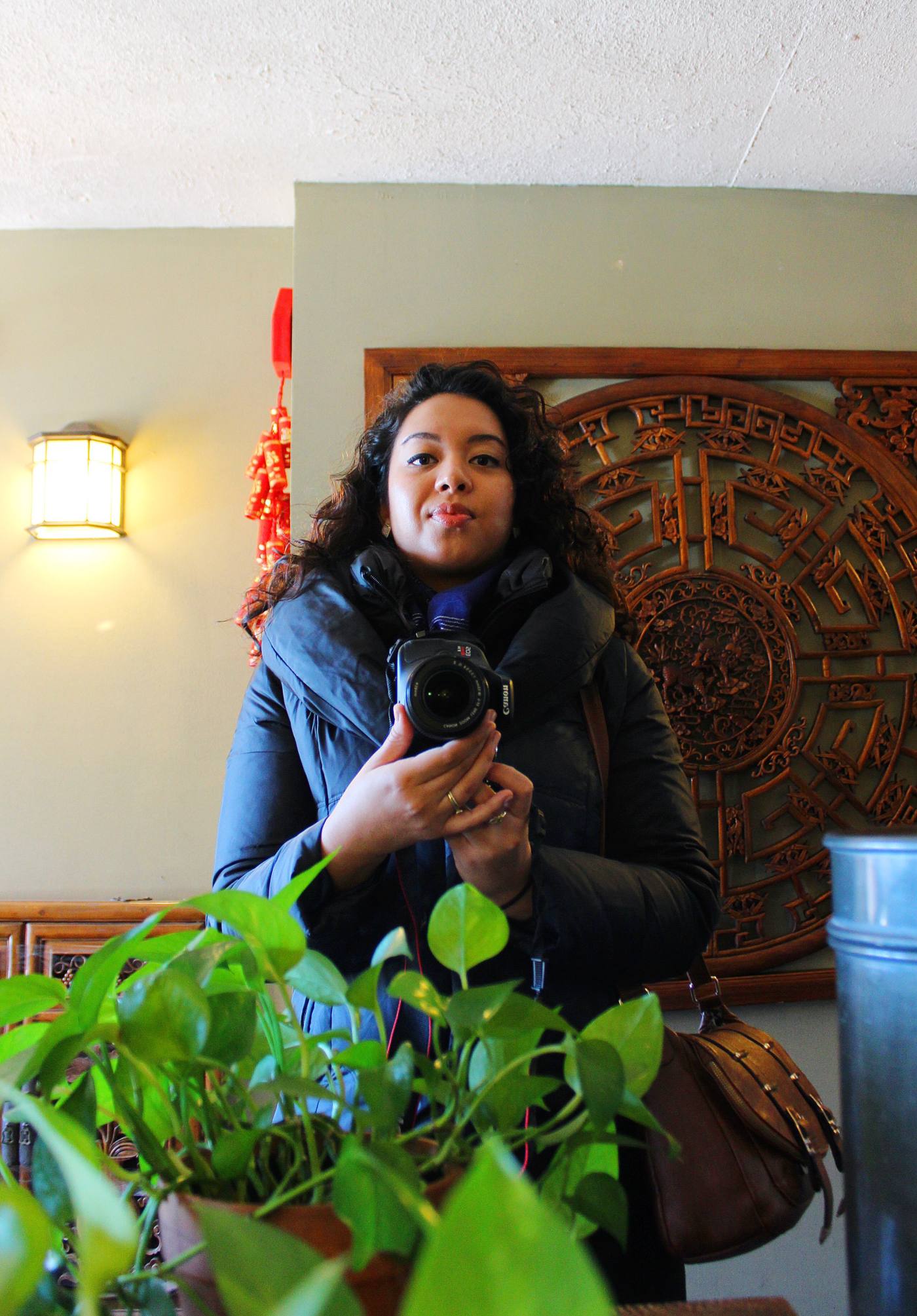 In the Washington D.C. area, there's a Starbucks or super cute cafe/coffee shop on every (or every other) corner. When I walk into these establishments, the only options available for tea are usually a chai/matcha tea latte or an assortment of tea bags I can buy with hot water.
The lack of offerings always makes me feel like my needs as a person who only drinks tea are an afterthought. I don't really like it and I know I can't be the only tea person who feels this way.
As such, I've made it my mission this year to explore the D.C. area and beyond to seek out establishments that focus soley on the cultivation and serving of tea.
And tea houses… They are a rare thing to find compared to coffee shops. In particular, Chinese tea houses.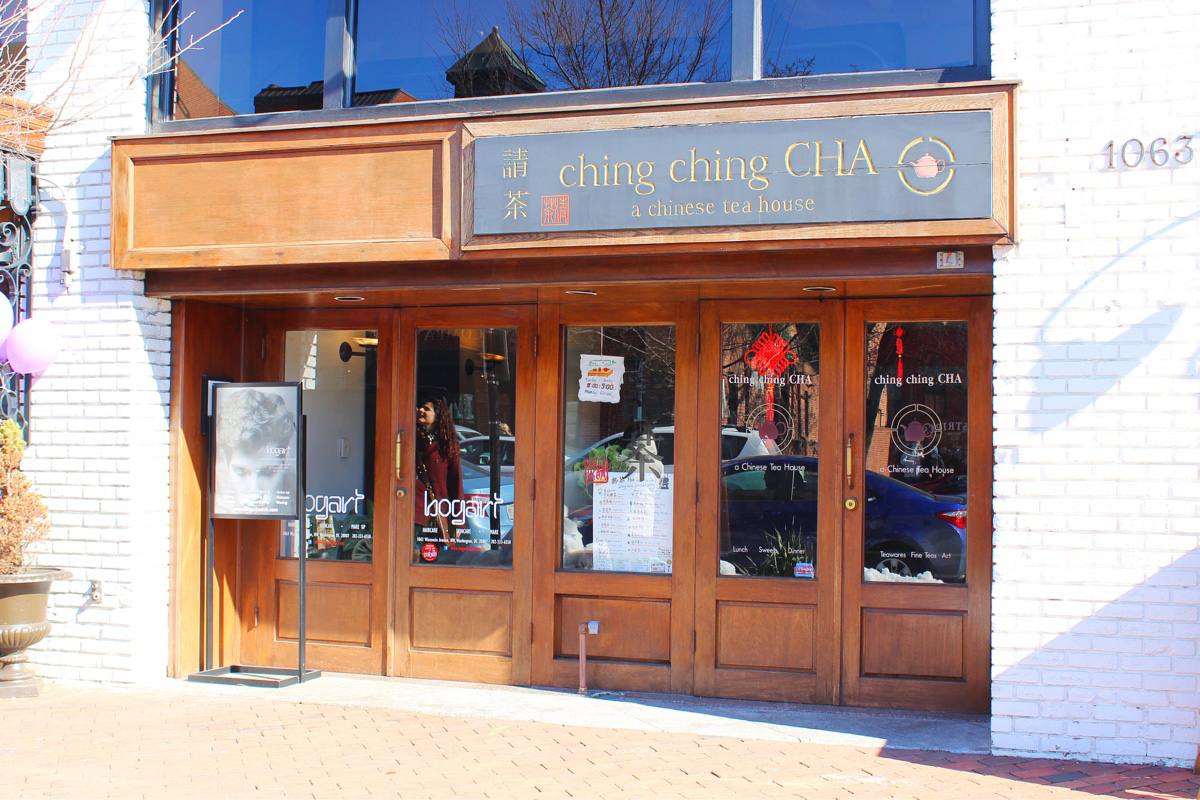 Case in point: After browsing the web in search of local tea houses/cafes, I found that in Washington, D.C., there is only one legit Chinese tea house in business and its name is Ching Ching Cha.
Smack dab in the middle of Georgetown off the cross street of M and Wisconsin, Ching Ching Cha is located on one of the busiest, most popping intersections in D.C.
And yet, it's very easy to walk past this establishment if you aren't intentionally looking for it. The tea house sits in between two other restaurants that have very loud signage which swallow up Ching Ching Cha's neutral exterior in comparison.
But this is a good thing because Ching China Cha is a hidden gem you'll want to keep to yourself…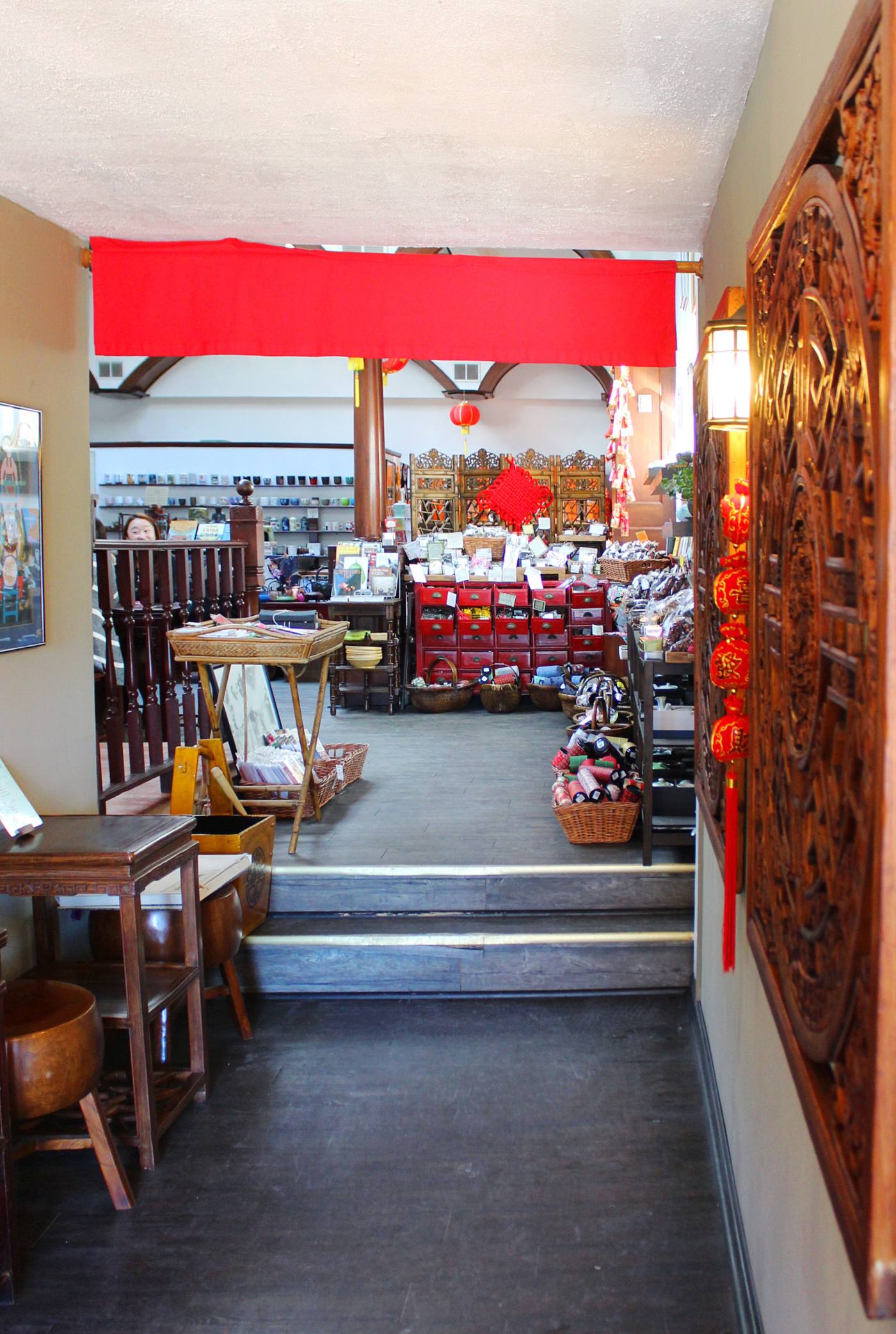 Upon entering Ching China Cha, I felt like I was walking into another world.
The sounds of Georgetown's bustling streets disappear as you walk through the doors and are replaced by a quiet ambience made up of soft and earthy recorded music – imagine sounds of running water and birds chirping.
Ching Ching Cha operates as both a tea room and shop, selling niche items that allow you to take the tea ritual experience home should you choose.
Tea products are displayed along the walls while the main space of the tea room is filled with intricately carved rosewood tables and chairs for sitting and sipping.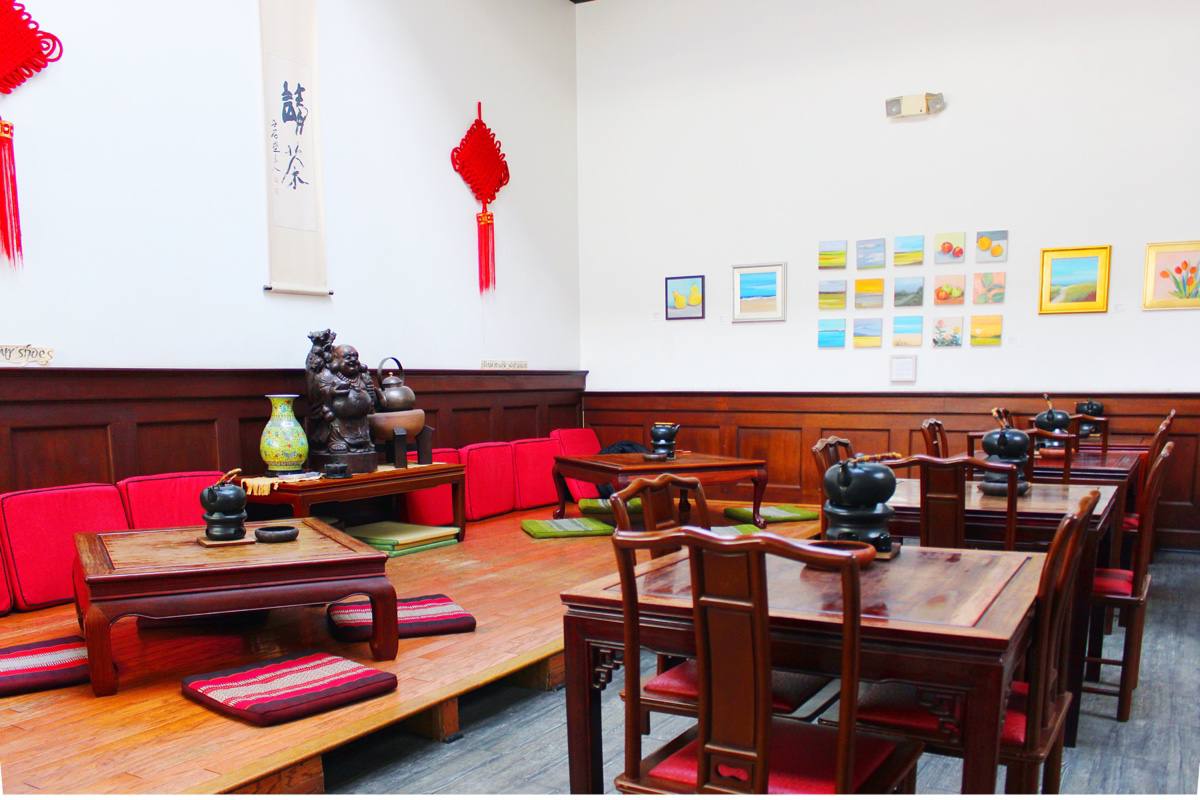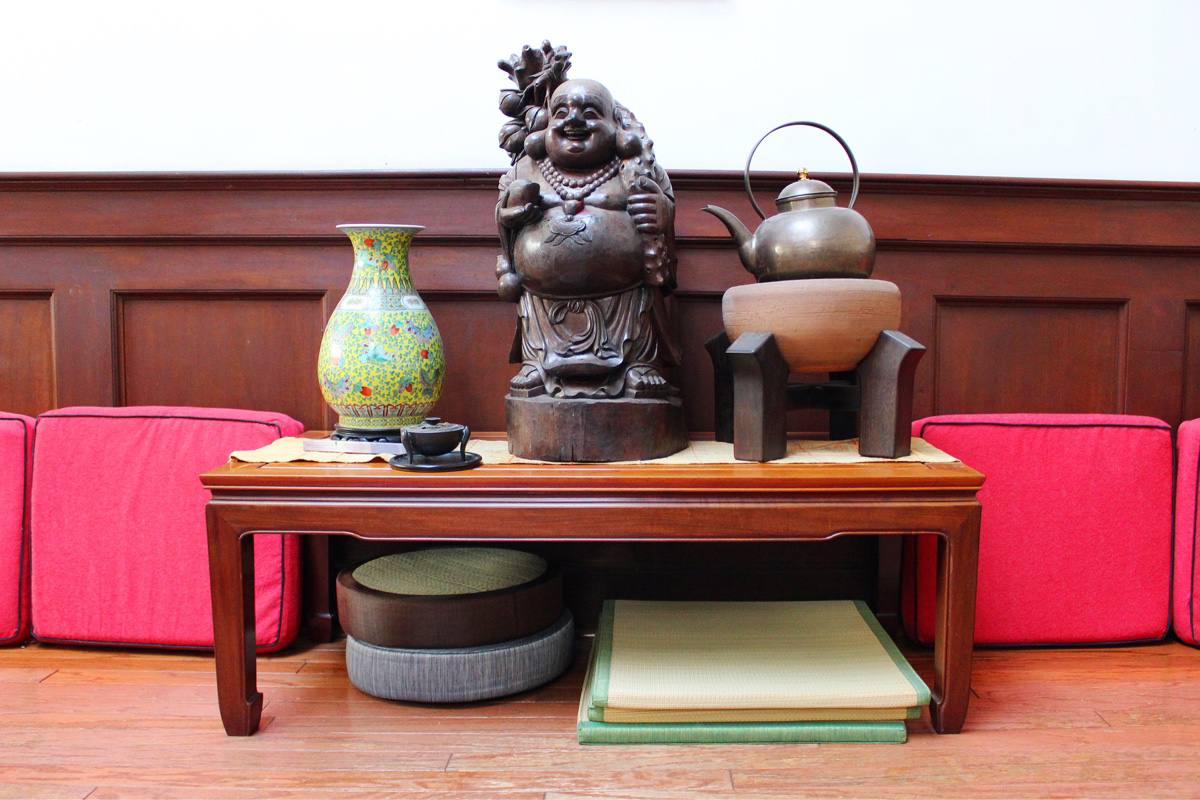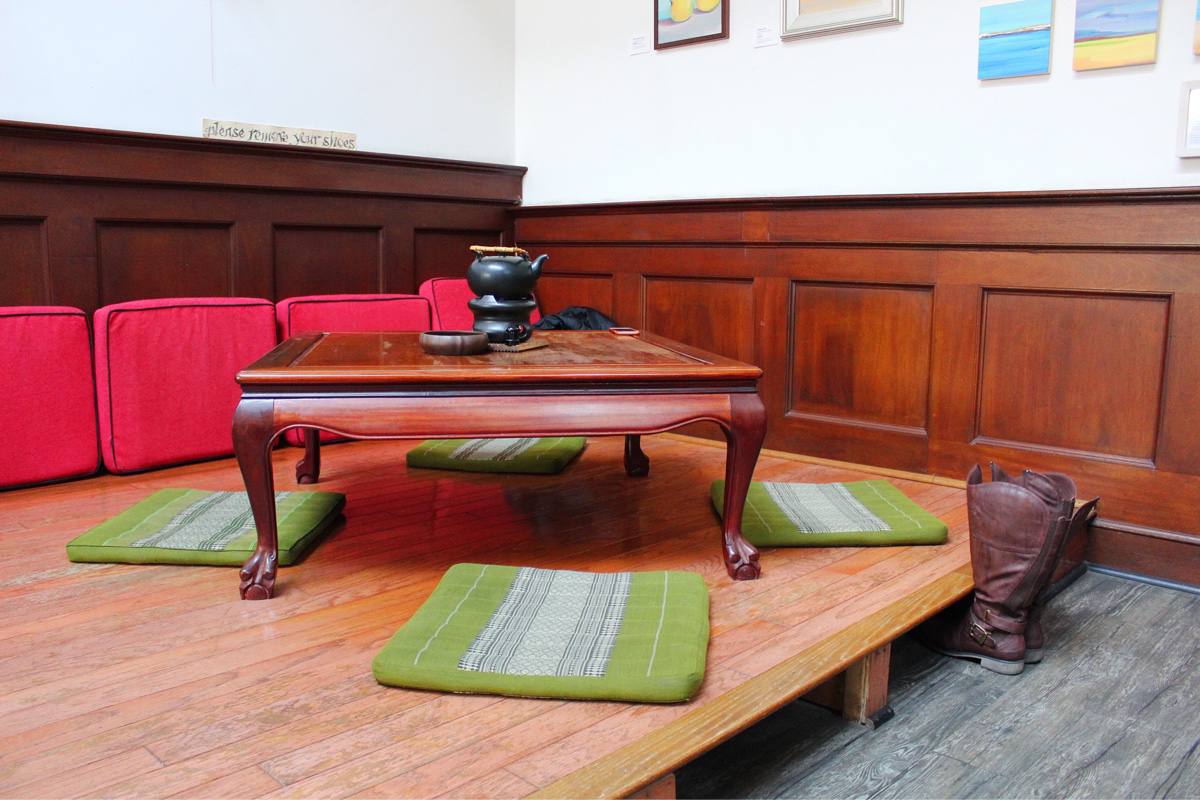 In one particular corner, there are two zashiki style tables available if anyone is interested in sitting on the floor in traditional Chinese fashion.
Always down to try something new, I made my way over to one low table, shed my boots and made myself comfortable on the floor pillows.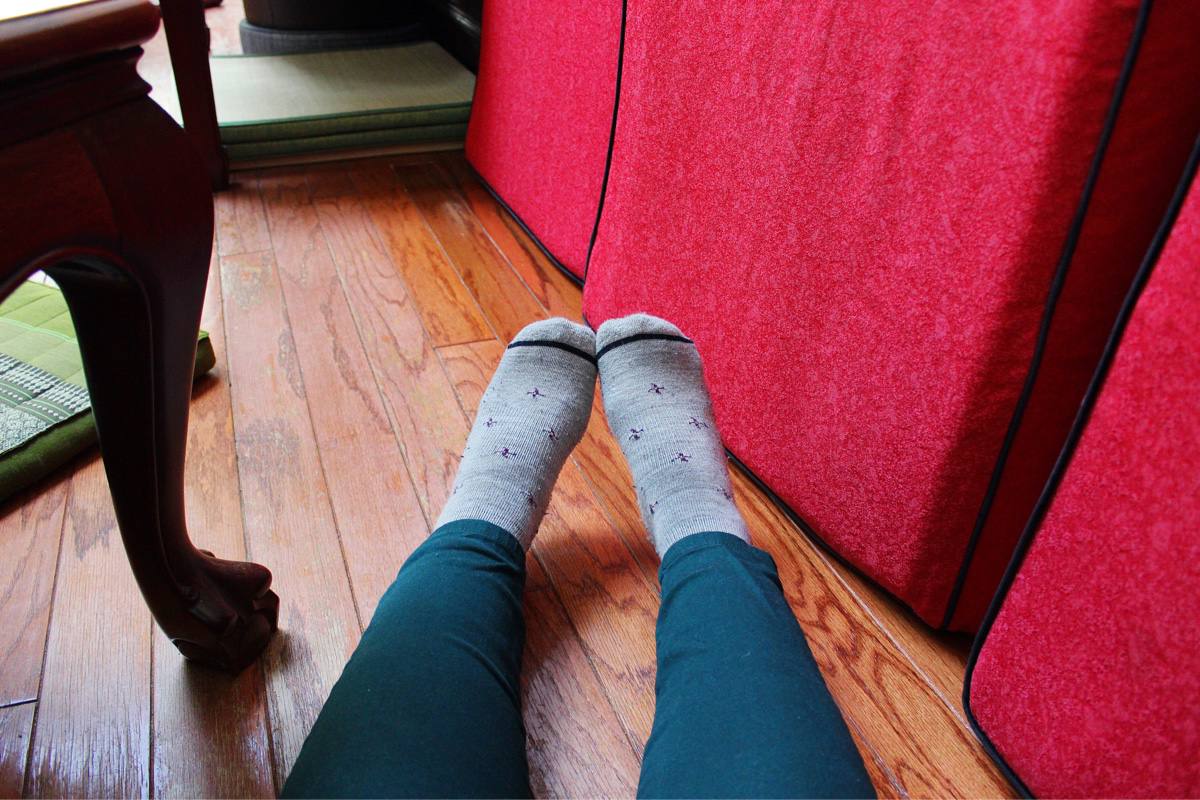 Immediately after, a waitress came over, handed me a tea and food menu and poured some water in the black kettle on my table to heat up.
After a couple minutes browsing the menu, I gave her my order and pulled out a book to read while I waited.
In case you're wondering… Yes, my visit to Ching Ching Cha was a solo date. Books are always good to have on hand when going on a date with yourself haha.
It wasn't long before my tea arrived followed by multiple orders of food. My visit to Ching Ching Cha was a 'treat yo self' kind of visit and I had plans to indulge.
Here's what I ordered: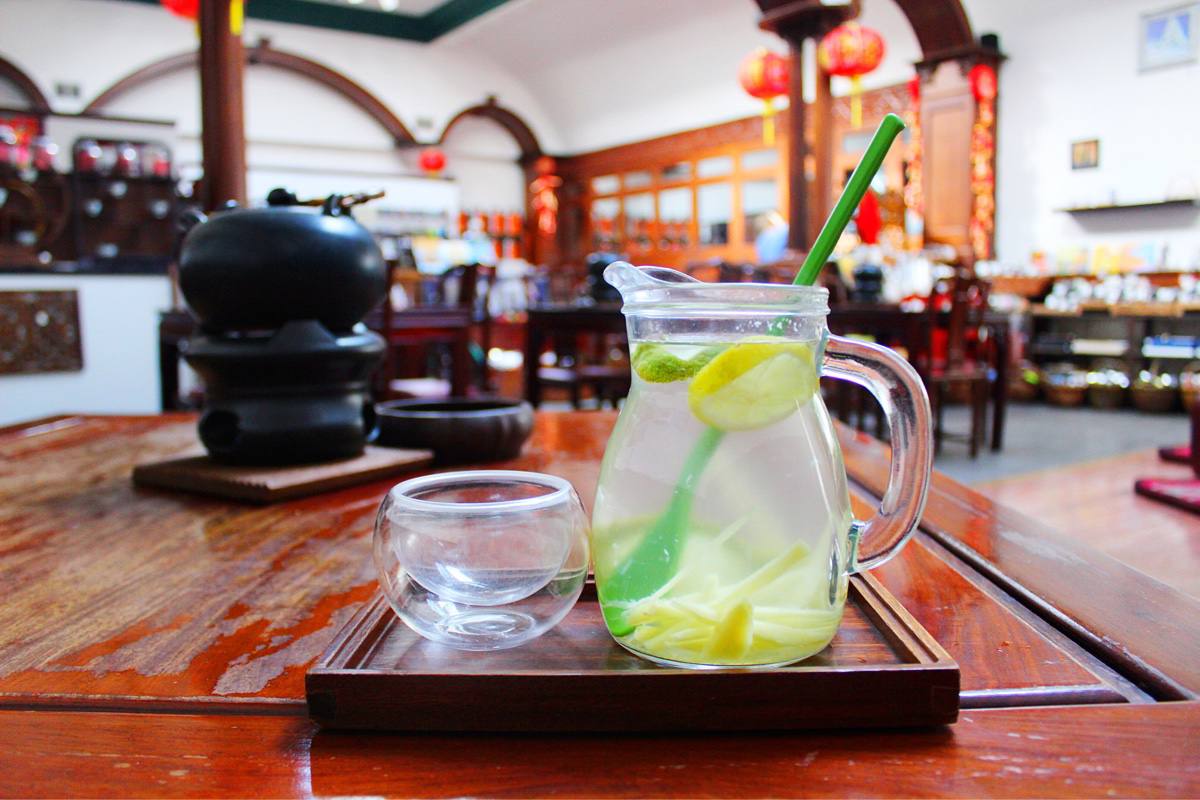 Since I was feeling a little under the weather at the time, I ordered the lemon and ginger tea. In my experience drinking ginger tea, it's very easy for the ginger to be overpowering in taste but Ching Ching's lemon and ginger tea was a perfect balance of both flavors.
What I loved about the set up at Ching Ching Cha was that I could refill my tea jug with more hot water from the kettle on my table whenever I wanted.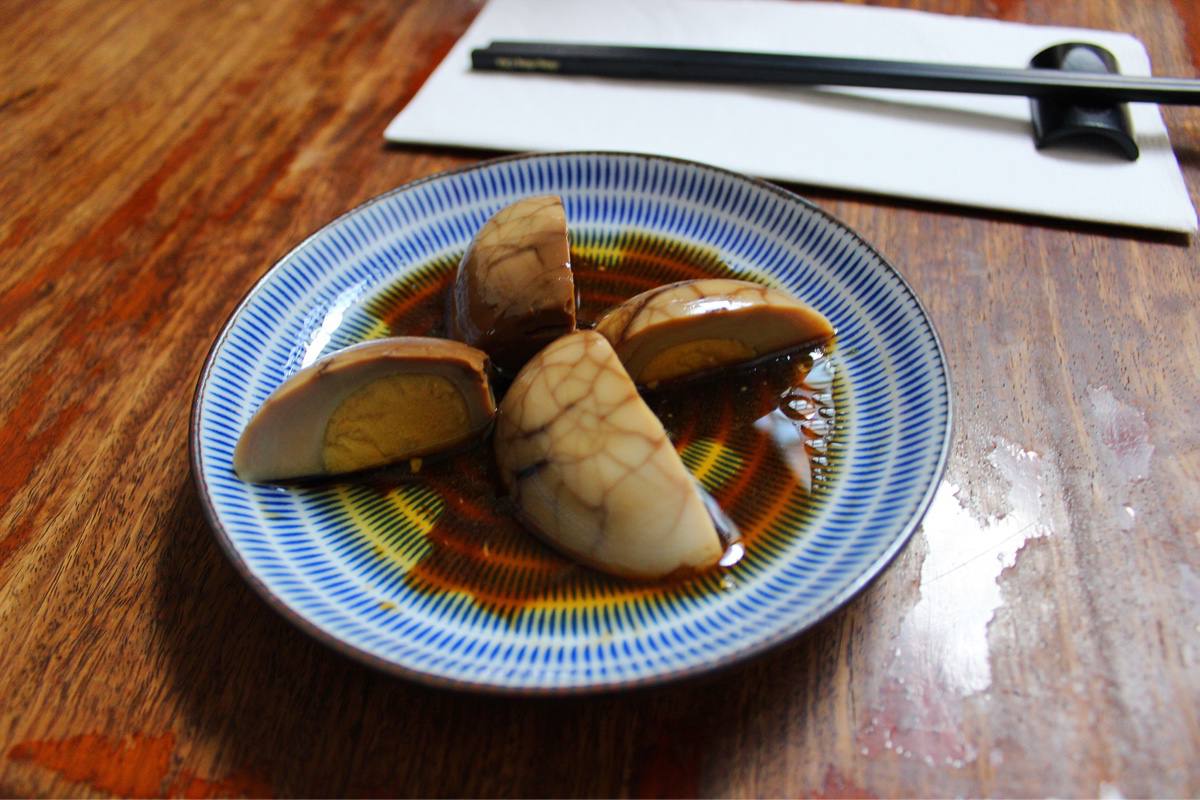 In addition to the tea, I ordered the Marbled Tea Eggs which were boiled eggs cooked with star anise, peppercorn, soy sauce and tea leaves = so good. I could've order five more of these but held myself back since there was more food on the way.
What followed next was an order of Mongolian Dumplings which were filled with lamb, cabbage, onion and garlic. They were perfect in texture, firm yet soft and not too chewy. They also had a little spicy kick to them which was nice.
After my "tea snacks", came the main course: The Tea Meal.
A tomato tofu broth soup followed by a bento box assortment of food made up of curry chicken with potatoes, jasmine rice, and 3 sides of vegetables – I went with the kale, snow peas and green squash.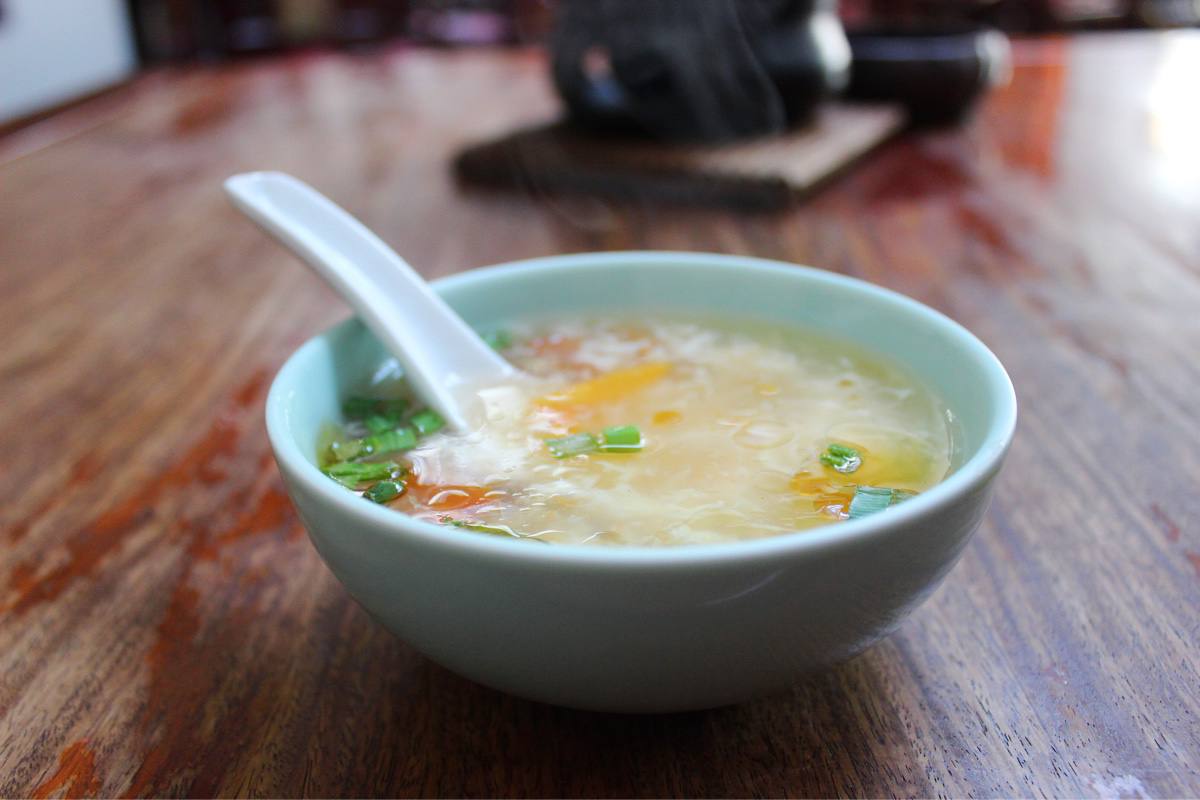 In addition to the savory curry chicken, my favorite part of the box was definitely the side of kale. It wasn't super tough or chewy like kale typically is. It also came sauteed in soy ginger sauce that was banging! Next time, I'll definitely order 3 sides of kale instead of my mix of vegetables haha.
I found that everything at Ching Ching Cha was tasty in a non-heavy/greasy kind of way. Despite the fact that I ate so much, my stomach felt very light. I didn't feel heavy/sleepy like I usually do after eating and I blame that (in a good way) on the tea.
During the 3+ hours that I was at Ching Ching Cha, I was constantly refilling my tea pot with hot water and I think it helped to flush out my system while eating because "hot tea water burns all the fat and calories away" as my mom likes to say haha.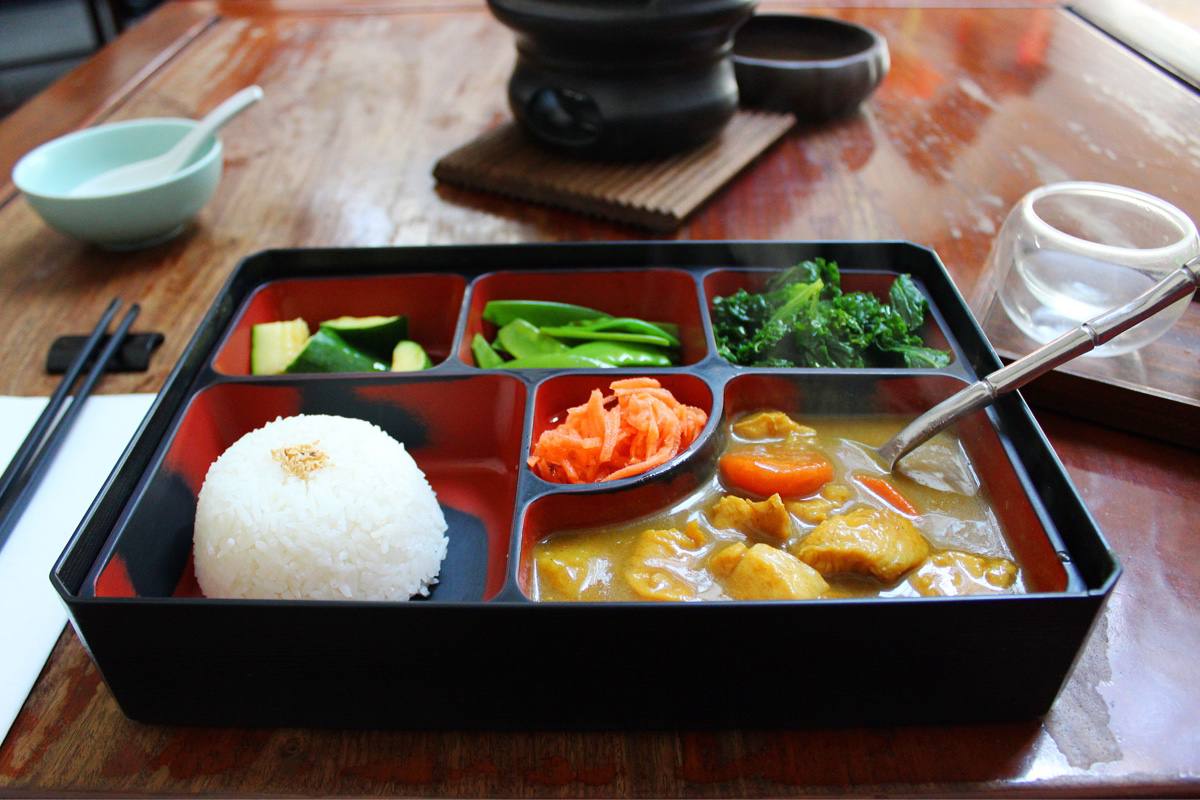 What I appreciated most was that I never felt pressured by Ching Ching Cha's staff to hurry up and leave during my time there. After speaking to my waitress, I learned that their establishment operates first come, first serve – no reservations. They believe in allowing their customers the time to enjoy tea at their leisure which holds true to the traditional Chinese tea ritual.
Out of curiosity, I also asked what Ching Ching Cha meant and learned that "Cha" in Chinese means tea and "Ching Ching" is the name of the owner of the tea house.
With that said, I give a big shout out to Ching Ching for creating the perfect, peaceful escape to enjoy Cha in D.C.
—
If you're ever in the nation's capital, I highly recommend a visit to Ching Ching Cha. Their tasty tea snacks and meals perfectly compliment the wide array of tea offerings. It really is the perfect place to take your time. Sip your tea. Unwind and enjoy. I have plans to visit again soon with my girlfriends.
A little inside tip: Try to get there right when they open at 11am so you can have the whole place to yourself before the afternoon rush of patrons start rolling in for lunch.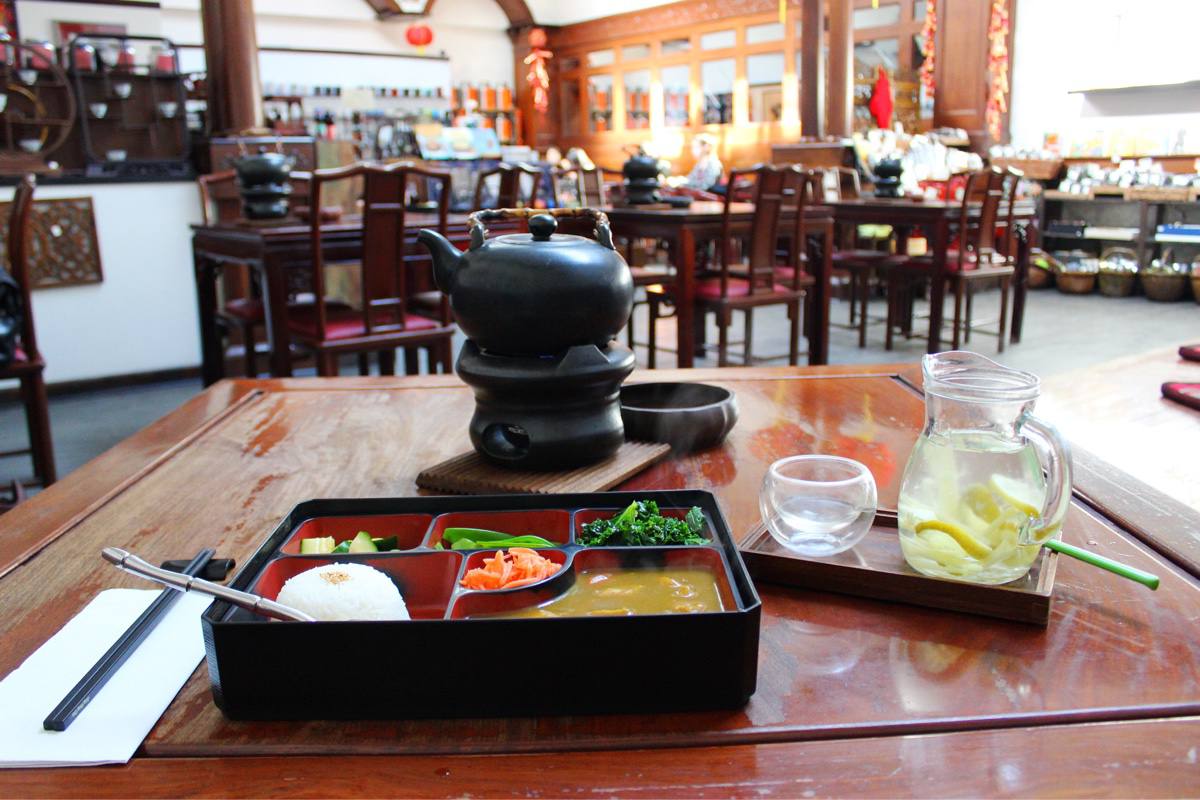 CHING CHING CHA
1063 Wisconsin Ave. NW
Washington, D.C. 20007
0