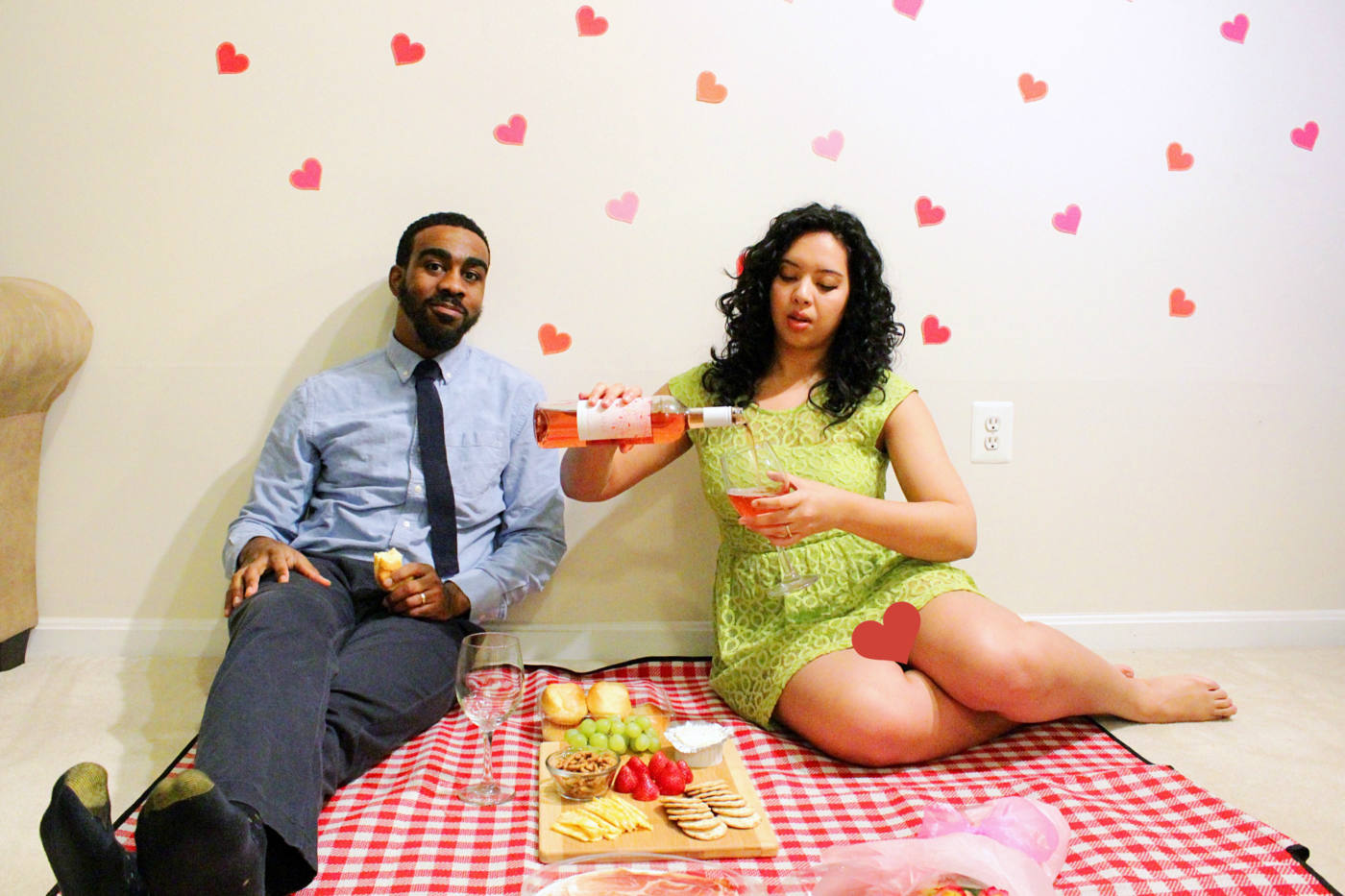 (click here for some background reading music)
When it comes to romance… Charles and I prefer not to give gifts. Instead, we give PRESENCE  because nothing says "I love you" like being present in the moment with each other.
As such, I thought it would be fun to share a few creative ideas for spending quality time together on Valentine's Day within the comfort of your home.
You might be thinking, "Setarra. Your post is late. Valentine's Day is tomorrow" <– To which my response would be that these are ideas you can easily put into play with less than 24 hours to plan.
Romance is all about taking the ordinary moments and making them extra-ordinary. It's the thought that counts, not how much money you spend on material things. Don't you agree?
---
7 Ideas For Giving Presence On Valentine's Day At Home

---
1) Grab some wine and cheese from the grocery store and have a picnic on your living room floor. (blog post here)
2) Channel spa vibes. Think candles, robes, zen music, massages, face masks, etc. All you need is a bathroom, a bed and two hands.
3) Play a game. A card game, a board game, scavenger hunt, etc. Feel free to up the ante and add a striptease element for the person who loses each round.
4) Cook a fancy dinner at home in nothing but your aprons… Obviously, you can cook with your clothes too if you would prefer. <– This is what Charles and I are planning to do for V-Day tomorrow = the "no clothes" option. ;)
5) Sing a song of sixpence or lip sync battle. Download a karaoke app and "belt" out your favorite tunes, dressed up in costume from whatever you can find in your closet. The catch is that your significant other has to pick the song you sing. You can't pick for yourself.
6) Get artistic and attempt to draw or paint each other's portraits. Annnnnd regardless of how good or bad they are, get the portraits framed (you can find $1 frames at the dollar store) and put them up somewhere in your home. A bottle of wine is recommended as I've found it helps to bring out the "inner artist" in everyone.
7) Put on your comfiest pajamas and have a netflix & chill kind of night… Because sometimes "basic" is the best form of romance.
---
A Few Things To Help Get The Most Out Of These Ideas
---
1) The first things first, you must put your phones away.
2) Do your best to find comfort in the silence. Not every moment will be filled with conversation and that's ok. Place more focus on the energy you're sharing with each other than focusing on words or there lack of.
3) A few of these ideas may require you to step out of your comfort zone which means you will need to let go of control and the pursuit of perfection. There really is no right or wrong way to go about implementing these ideas. Focus on going with the flow and being present in the moment instead of placing expectations on what you think the end result of the experience should be.
4) If you have time, create a playlist for little background music to help set the tone/vibes for your time together.
—
It's important to note that these ideas are not exclusive to only those people who are in a relationship. I feel like they could easily work for a "family or galentine's get together" or "self-love session" with a few appropriate changes.
It's also important to note that these ideas are not exclusive to just Valentine's Day because in the words of Outkast, "Every day is the 14th."
I had alot of fun brainstorming ideas for today's post so if you do end up using any of these ideas for Valentine's Day or beyond, feel free to send me a message or tweet me because I love love and would love to know how it goes for you!
Wishing you a happy Monday and wonderful start to the new week!
xo, Setarra
0