Here is a clip of my Mommy Ma showing me how to use a flashlight she got me during the week she came to play nurse after my knee surgery. But it's not just any flashlight! Oh no! This flashlight is special and this is pretty much her infomercial explaining allll it's features… Add my brother's loud breathing behind the camera as he was recording our convo into the mix annnnd I think we have a winning presentation for the Home Shopping Network!!! I love my family :)
Wouldn't you buy this flashlight???
On Another Note …
Regardless of having a bum leg this past year, I refused to miss out on my social life and made an effort to go out to the club and 'dance'. With that being said, I 100% recommend these dance moves to my fellow dance crips. And Yes, I've tested them all out myself! With the exception of the disclaimer, these moves are Setarra Stamped and Certified! A lil liquid courage always helps too ;)
1. BOBBLE HEAD:
This movement can best be described as a housejack without the
knees. Start off sloow and let it build up into a rocking headbanger.
2. SLO MO SALSA:
Simple salsa step done offbeat. No Partner required.
3. KILL YASELF:
Stand Still. Position your fingers into gun formation and
proceed to shoot imaginary outlaws.
4. JACK OFF:
Imaginarily pull it out and … Jack OFF.
5. RUNNING MAN:
No running required. Just walk around dance floor.
6. YMCA:
Need I say more.
7. ISOLATION:
Bend Over. Isolate each buttcheek to the beat. You can even get
fancy and do crazy combos.
I personally prefer: left cheek, right cheek, double butt,
kegal.
8. BROKE BUTTERFLY:
Imagine a butterfly with a broken wing. Simply flap the
good knee in and out. Go fast or slow, Get Fancy!
9. UPPER ISO:
See #7. Apply the same instructions to the breasticals.
10. RAWR:
Chomp on the beat. I'm serious… Open your mouth and chomp on the
FRIGGIN beat!
DISCLAIMER
DON'T DO THIS: I'm serious … Don't get carried away and dutty wine like this (example below). I haven't personally tried this move out but I'm pretty sure you could re-injure yourself… In other dutty areas…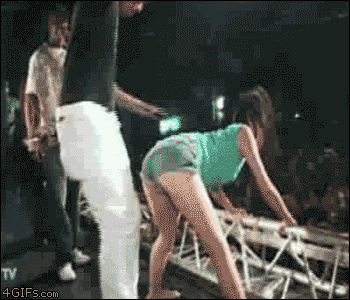 Cheers and Have a Happy Honest Hump Day!
—
xo, Setarra
0