Sooooo I guess it's a good thing we got Halloween out of the way early …
Hosted a costume party with the roomies this past Friday and couldn't have planned it better with the timing of what the media is calling the the biggest hurricane to hit the east coast since 1935 or 1938 or 1997 or 2005 … So many different news reports … Not enough consistency. The NYC MTA shut down all public transportation at 7pm today soooo I won't be going to work until it's reopened since I'm a metro commuter.
The CVS and grocery stores are all out of water now but I was able to stock up on the essentials:
water, candles, batteries, canned soup, baby wipes, nutella, and bread before it all ran out. We also have soo much beer & chips and salsa leftover from the party … We are super good in snack and dranks department ;) People are already acting crazy… I saw these two old ladies with walkers fighting over cold-cuts at the deli … Actually, I take that back … this episode of bickering was pretty entertaining to watch.
If the power goes out, we luckily have a gas stove to cook and heat water up but that also means this may be my last post for a while. Cross your fingers that Hurricane Sandy is a dud like Hurricane Irene was last year!!!
Anyways … Back to the Party … The party was a hit! We had a great turnout and saw some great costumes! The best part about it was that our decorations looked stellar!!! Annnd we made all of them ourselves … Like with our hands :)
And as usual, I was snapping away with my iPhone. I used the flash on my camera for most of the shots so it took away from fully capturing the party vibe. But without the flash, our apartment looked exactly like the first few photos below … A little blurry but supercool lighting!!!
Meg was a warrior princess and I was a hippie chick :)
Roomie Power!
Tiffany & Byron
Knicks City Dancer & The Black Marilyn Manson
Jason, Ant & Charles
Pee Wee Herman, Ref Man & Hippie Hendrix
Left: Clem and Her Girlfriend … Dark Angel & A 60's Housewife
Right: Major Photobomb …
Meg & Buddies … Susan & Brian :)
Bromance Reunion
Left: Hanging with My Mouse Chica, Sasha.
Right: Esra & her fiance … Dracula & Little Red Riding Hood
Brian's Platforms!!! Ahhh Disco Fever ;)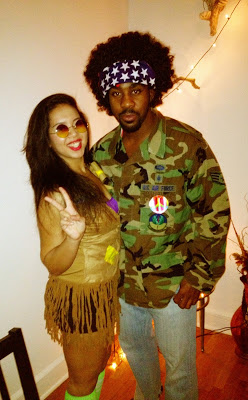 Left: Me & Charles … Advocates for Free Love <3
Right: Ant & Charles … I don't know what face they're giving but it looks like Ant is trying to seduce the camera with his whistle bahaha!
Happy Halloween!!!
And to everyone on the east coast prepping for Hurricane Sandy … Be Safe!!!!
—
xo, Setarra
0