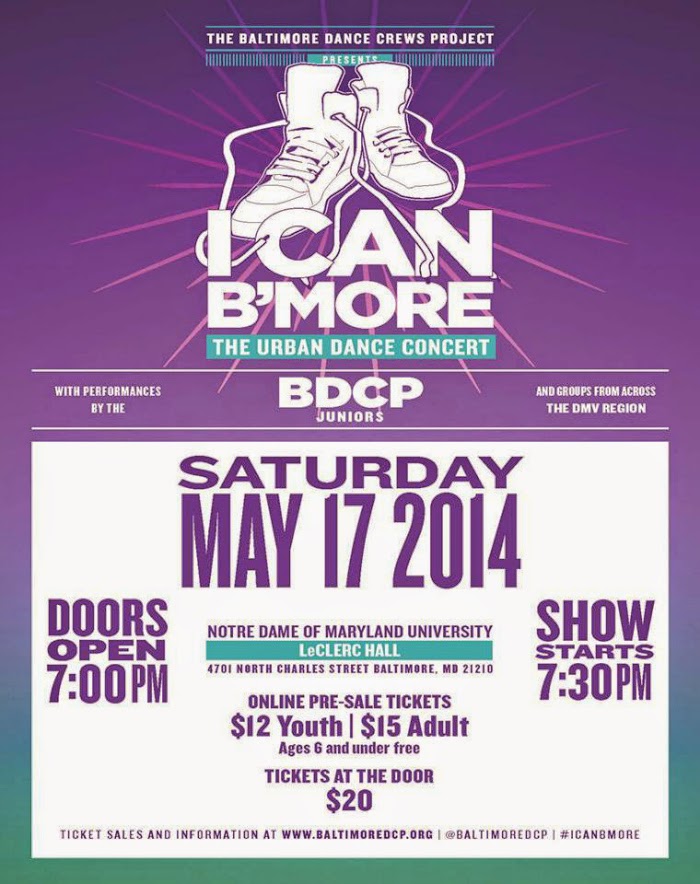 Once upon a time, my close friend, Cynthia, and her friend, Brian, met through Teach For America. Bonding over their common experiences with dance and wanting to share their love for dance with their students, they went on to found The Baltimore Dance Crews Project (BDCP) as a way to provide Baltimore City youth with after-school urban dance programming that focuses on supporting student achievement, encourages creativity, builds community and promotes living a healthy lifestyle. Their motto, "I Can B'More" supports their mission in cultivating urban dance leaders to elevate the expectations of youth.
BDCP will present its 2nd Annual "I Can B'More: Urban Dance Concert" tomorrow (Saturday, May 17th) which will provide an opportunity for the BDCP Scholars to showcase their training and hard work through dance! There will also be guest performances from other dance organizations in the Baltimore/DC area!
I've mentioned it before and I'll say it again: the implementation of arts, specifically dance, programming into a child's education is crucial in their development. I've seen first hand the impact and growth of the students who participate in BDCP's free weekly after-school dance programs & on their exhibition team and I couldn't be more proud of Cynthia and Brian for their work in providing an artistic outlet for the Baltimore City youth.
On that note, I am super honored to say that I will be co-hosting this event tomorrow! Yeap, Cynthia is trusting me with a microphone haha. If you live in the Washington Metropolitan Area, come out to Baltimore and watch these kids dance their hearts out! I promise you'll come away inspired to do more, achieve more and be more. See you there :)

0