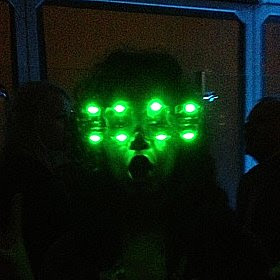 A Five Hour Open Bar of which I was only present for two hours …
Meaning we arrived at
Hotel Indigo
for their rooftop party at 11pm when the open bar began at 8pm. {Because NYPD started shutting down Times Square at 7pm from 38th st all the way to 58th st …The crowds and traffic were crazy!!!} But we definitely played "catch up" when we got there to make sure we got our moneys' worth. Not the smartest thing we may have done but what's an epic New Year's night in NYC without spur of the moment decisions? We survived which is all that matters … Thank you Lord and Buddha ;)
The evening started off unassuming when Anna (my Korean ride or die) and I went to visit some friends on Canal Street. Did I mention this place was a top floor penthouse with awesome views!?!?! We seriously thought we were in one of the massive homes you only see on HGTV! It was another awesome reunion with friends I danced with on Culture Shock AND I got my first introduction to Foie Gras & Green Tea Kit Kats!!!! Soooooo Good!!!!
And then from there, it got wonderfully crazy with a sprinkle of hazard on the side when we headed to our New Year's Party. The bathroom at the hotel ran out of toilet paper, so we got MiMi to climb over an unoccupied but locked stall to get some… Only to find out there wasn't any toilet paper in that stall either!!! I didn't get home till 6 in the morning and didn't get out of bed until 6pm. It was one of those nights where you wake up the next day and say "Damn that was crazy!" and just laugh it off as you chug a lug on water.
Jamey, Me, Anna & Mimi
The Nice Pictures
Red Light Boom Boom Room
Helping Mimi get over the stall to get us some toilet paper … Errrr kinda helping? lol.
After Midnight … So happy to bring in 2013 with Anna! Can't wait till our next reunion!!!
Next year, I'm thinking about sleeping through New Years …
xo, Setarra
0