When it comes to travel, I'm the "planner" and Charles is the "go with the flow-er" in our relationship… If it were up to the hubby, we would get lost and wander aimlessly taking in the sights as they come for every trip.
Me? I figure if we're spending all this money to travel, we better see as much as we can and get our money's worth which is why I do research and always make a list of things to eat, see and do before hand.
Early on in our "travel relationship", we used to butt heads because of our different travel styles. But over the years, we've found a compromise that works.
And that compromise is that I get to plan out our travel days but I must always leave ONE day free for us to do whatever Charles wants to do on a whim.
And so our last day in Seattle was Charles's day.
Instead of waking up at 5am like we had the last couple of days (I run a tight ship lol), we slept in until about 11am before finally getting out of bed and making moves.
Below is a list of what we ate, saw and did :)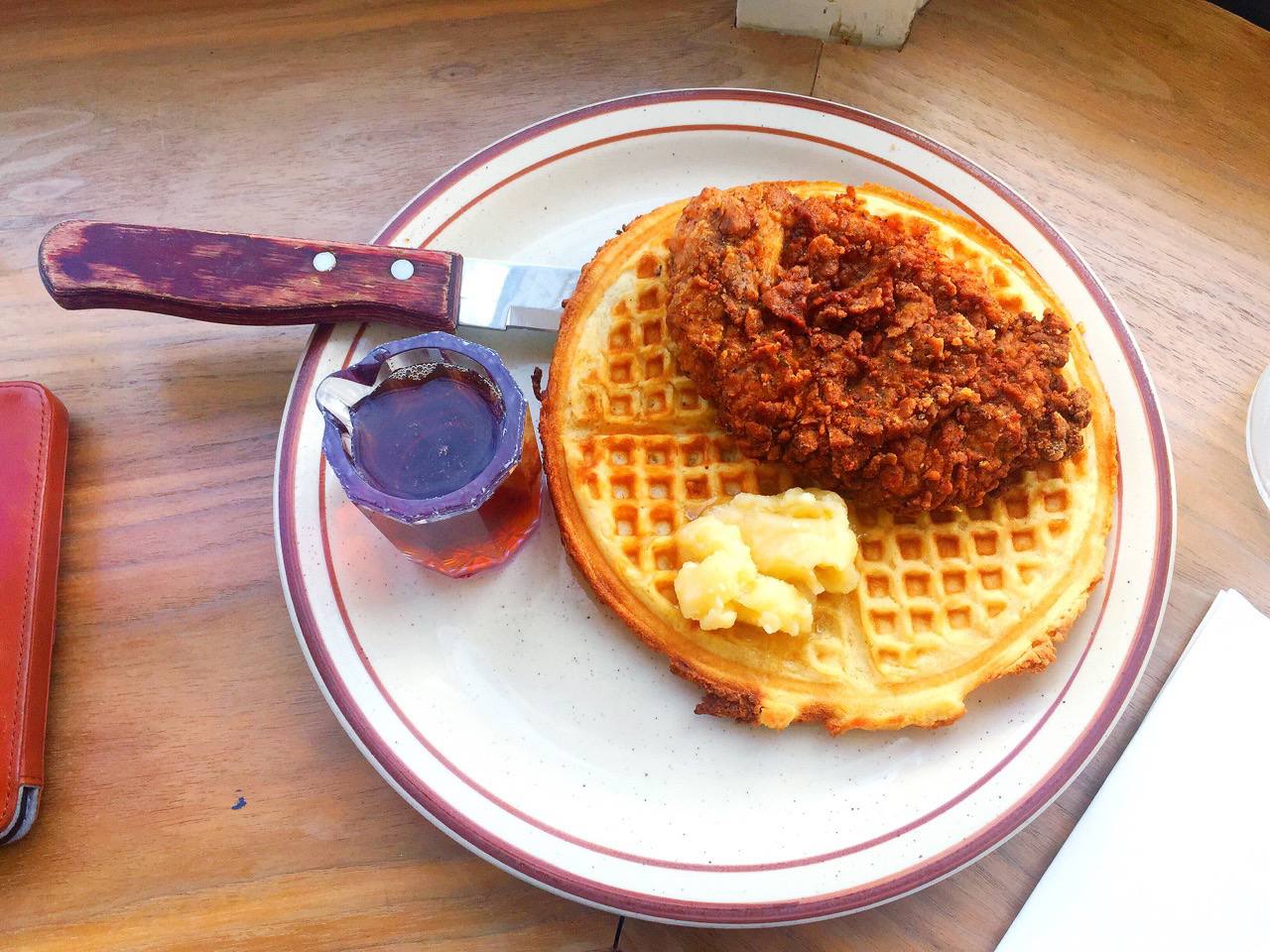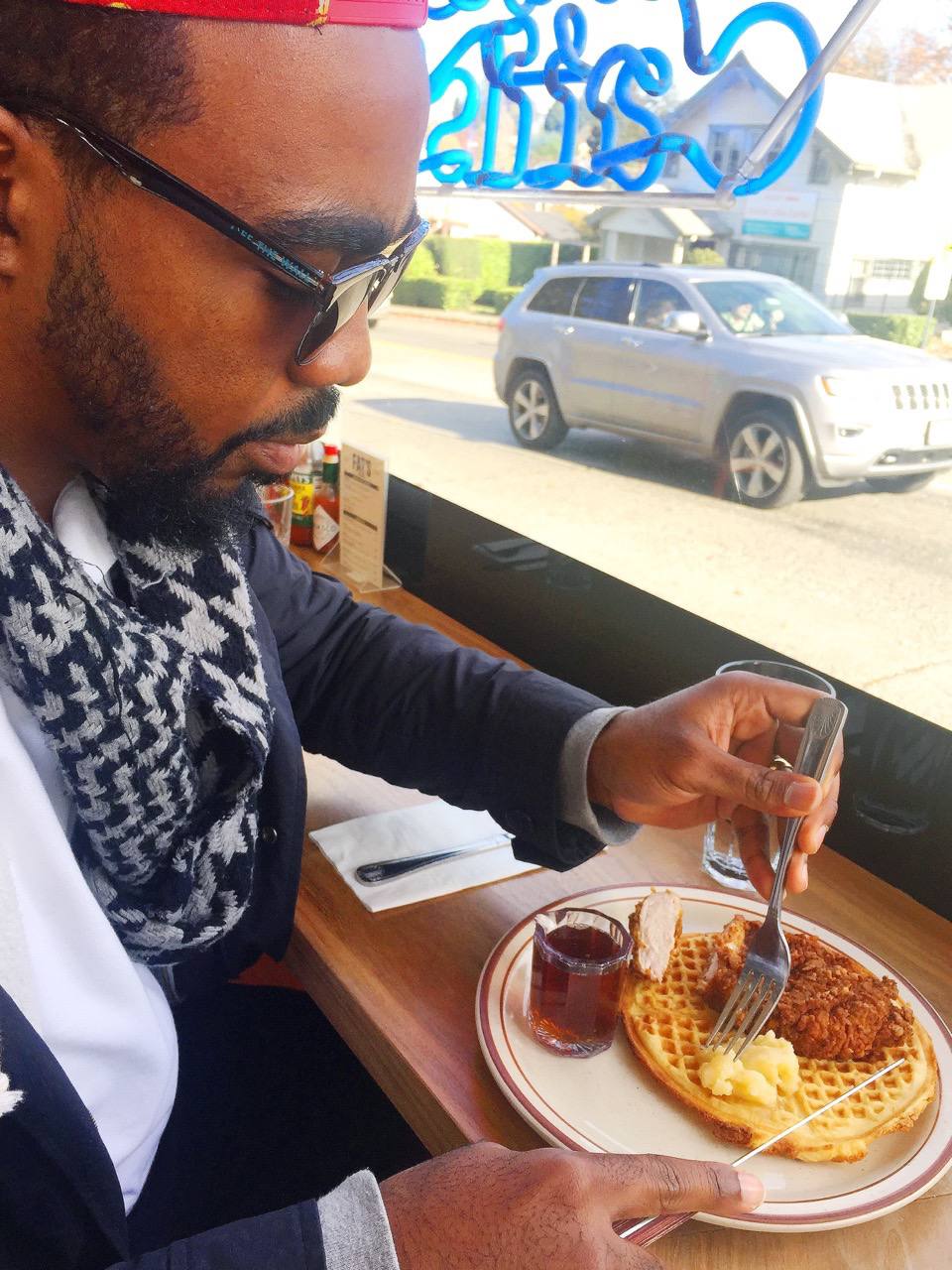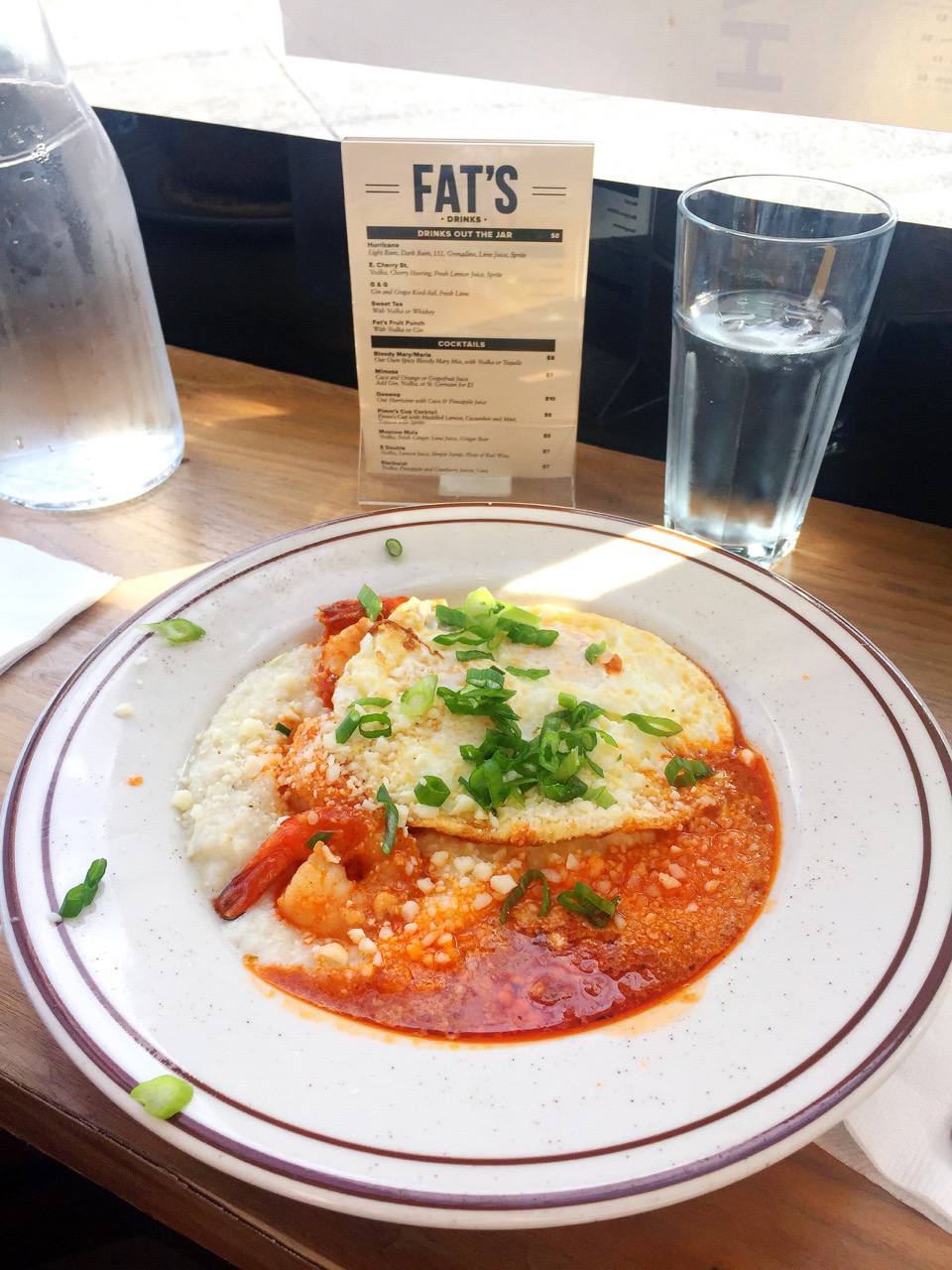 1) Lunch @ Fat's Chicken & Waffles: The first thing I did when I woke up was roll over and ask Charles, "What do you want to eat?" because food is always the first thing on my mind when I wake up.
His response = "Soul Food."
Soul Food? In Seattle? A city undergoing a massive wave of gentrification as a result of the tech boom making Seattle the 5th whitest city in America and where after a couple days of exploring, our number of "black people sightings" was a total of 3?
I personally felt like Charles was asking for a miracle but if my baby wanted soul food, then soul food was what he was getting. Or at least, something close to it.
What resulted after his request was an hour long session in bed with me on the laptop and him on the iPad, googling everything from "where are the black people in Seattle" to "where to find soul food in Seattle" and in between. It was a really informative hour of us sharing and reflecting on what we had found. If you're interested, here's an article on Seattle's disappearing black community really resonated with the both of us.
In conclusion, what we found was Fat's Chicken & Waffles, located in the Central District – a historically black neighborhood in Seattle.
One Uber ride later, we walked into Fat's and were welcomed personally by the restaurant's manager and sounds of reggae music which totally set the vibe for our dining experience.
Charles ordered the Chicken & Waffles and I went with the Shrimp & Grits, both of which were only $10. I repeat, TEN DOLLARS. In D.C., shrimp and grits goes for about $18 minimum. We also ordered a side of corn bread to share.
Overall, everything from the food and service was great especially for the price.
If we ever visit Seattle again, we definitely want to take some time to explore the Central District more. Also, it wasn't until after we ate at Fat's that I found out about Simply Soulful (recommended by a local who was sitting next to us at Fat's), another soul food restaurant in the Central District – sharing that in case anyone visiting might want to check them out too. :)
Cost: about $27 for food and $7 for the Uber ride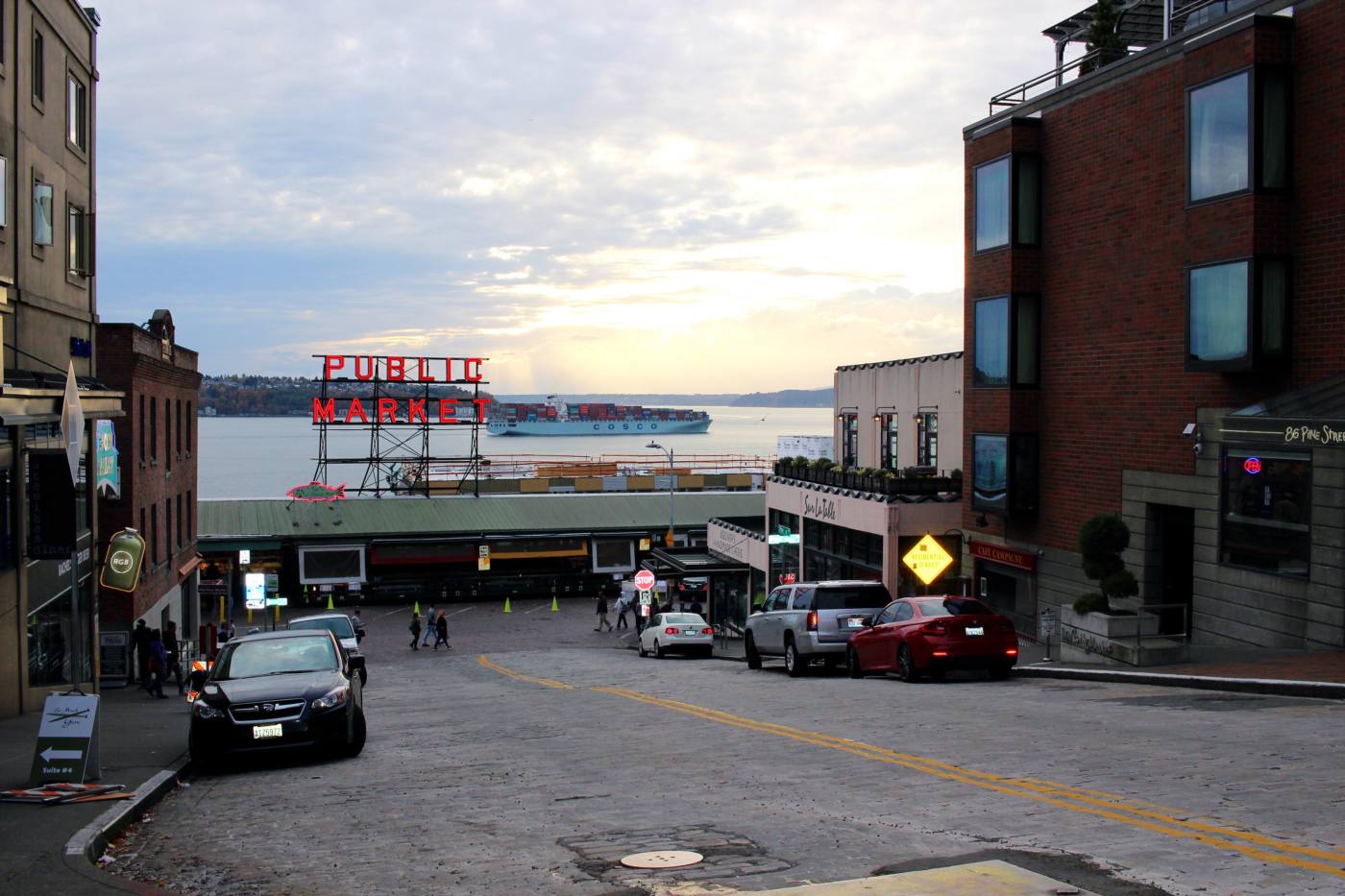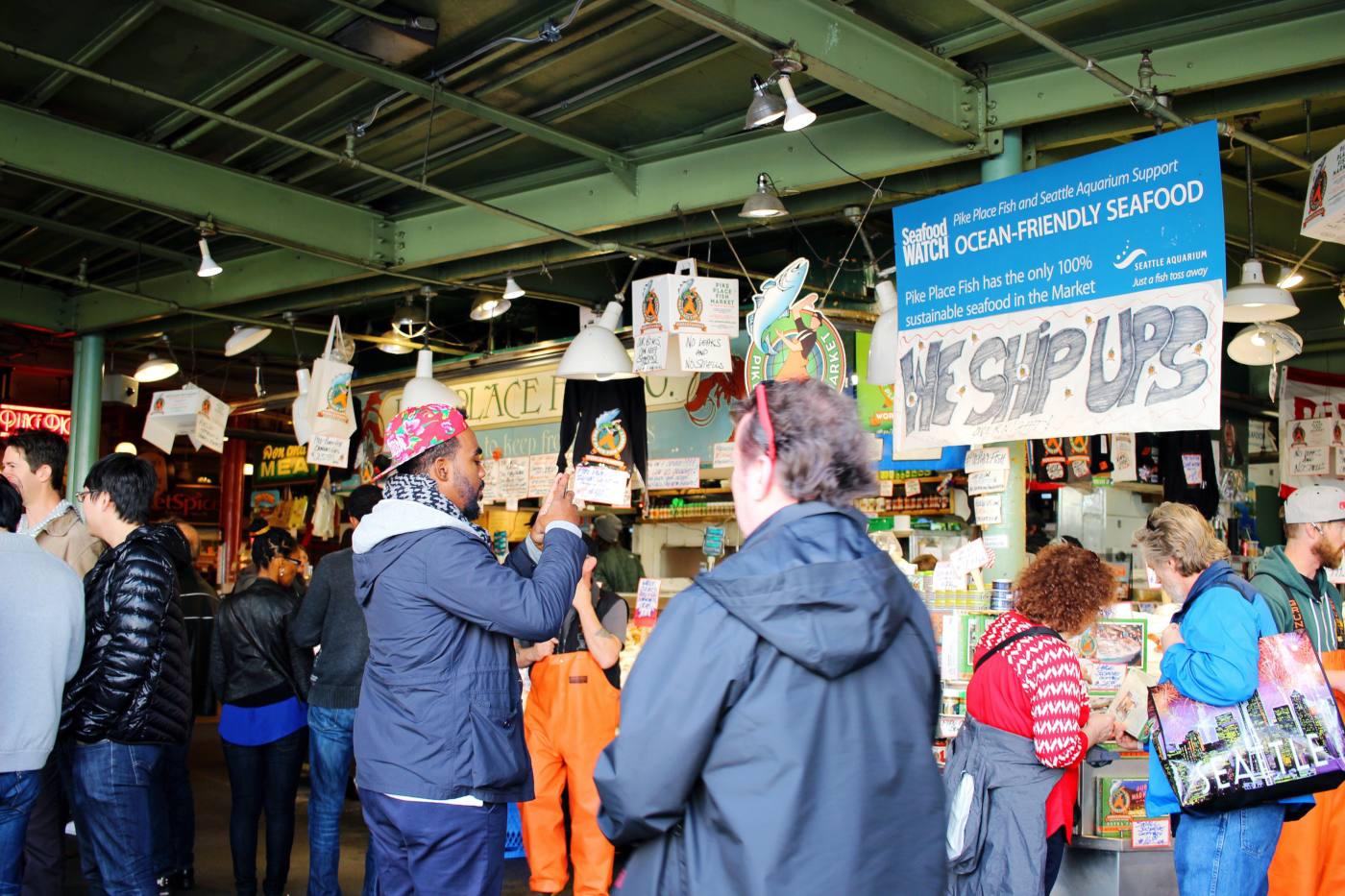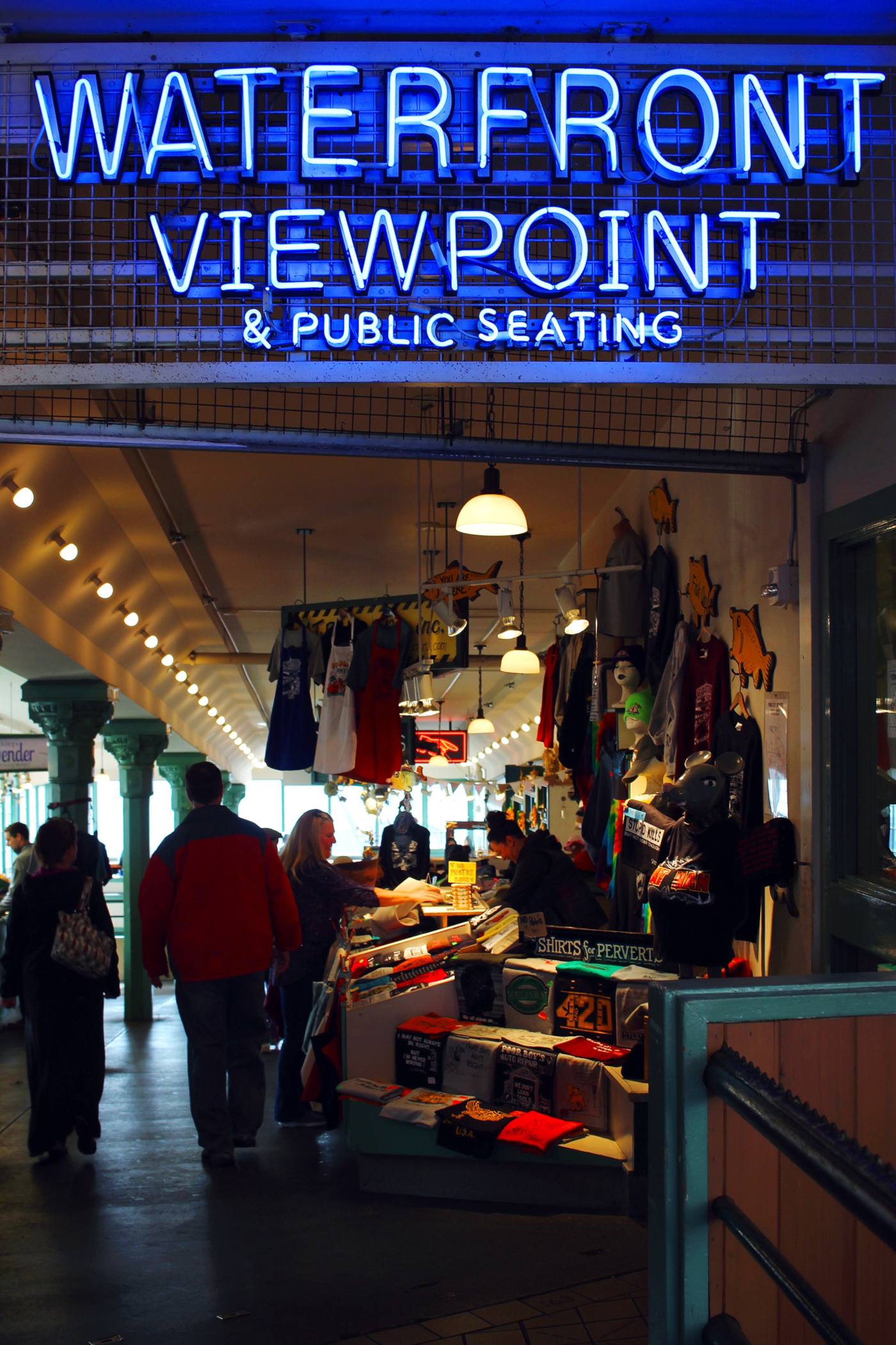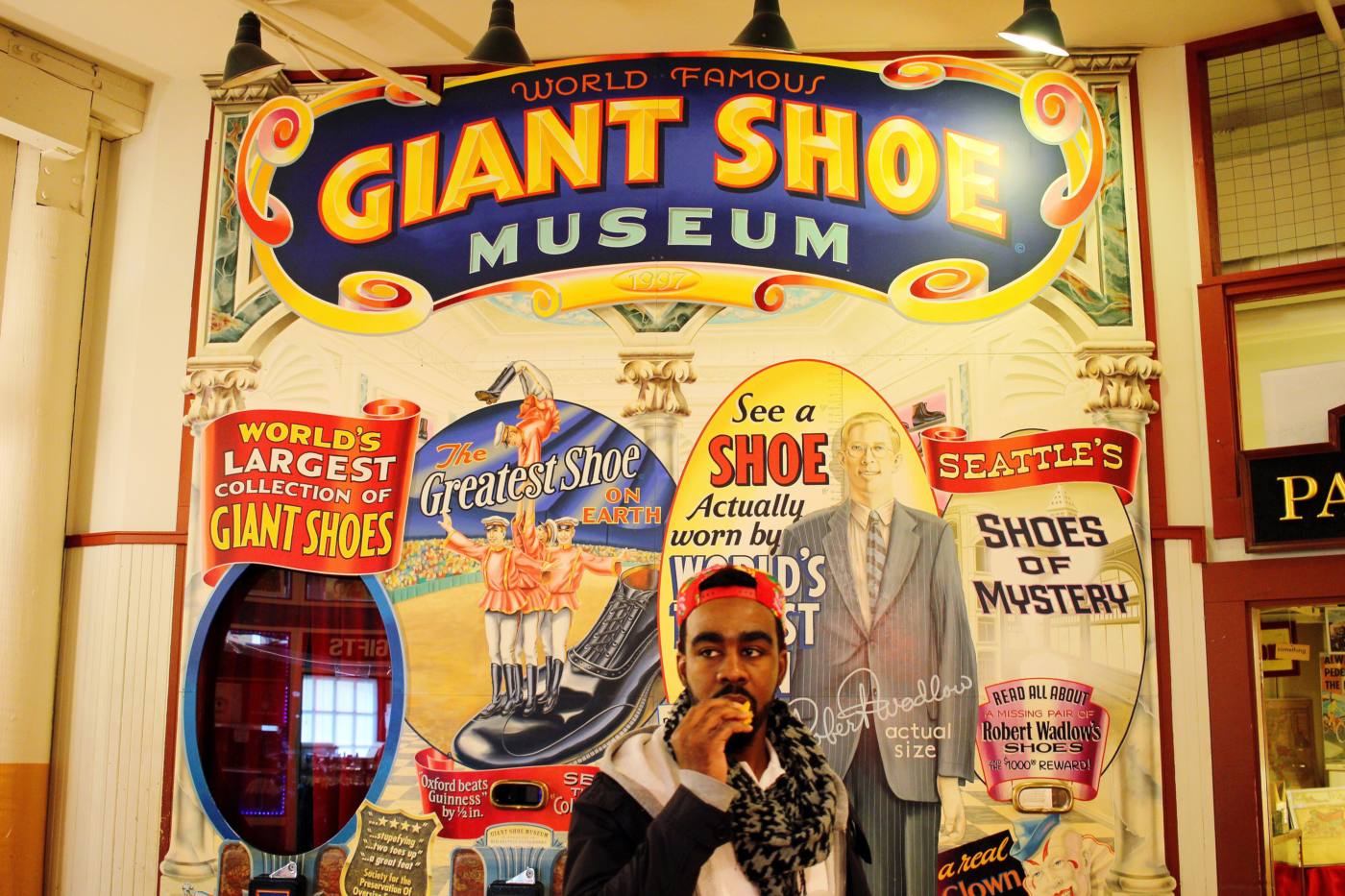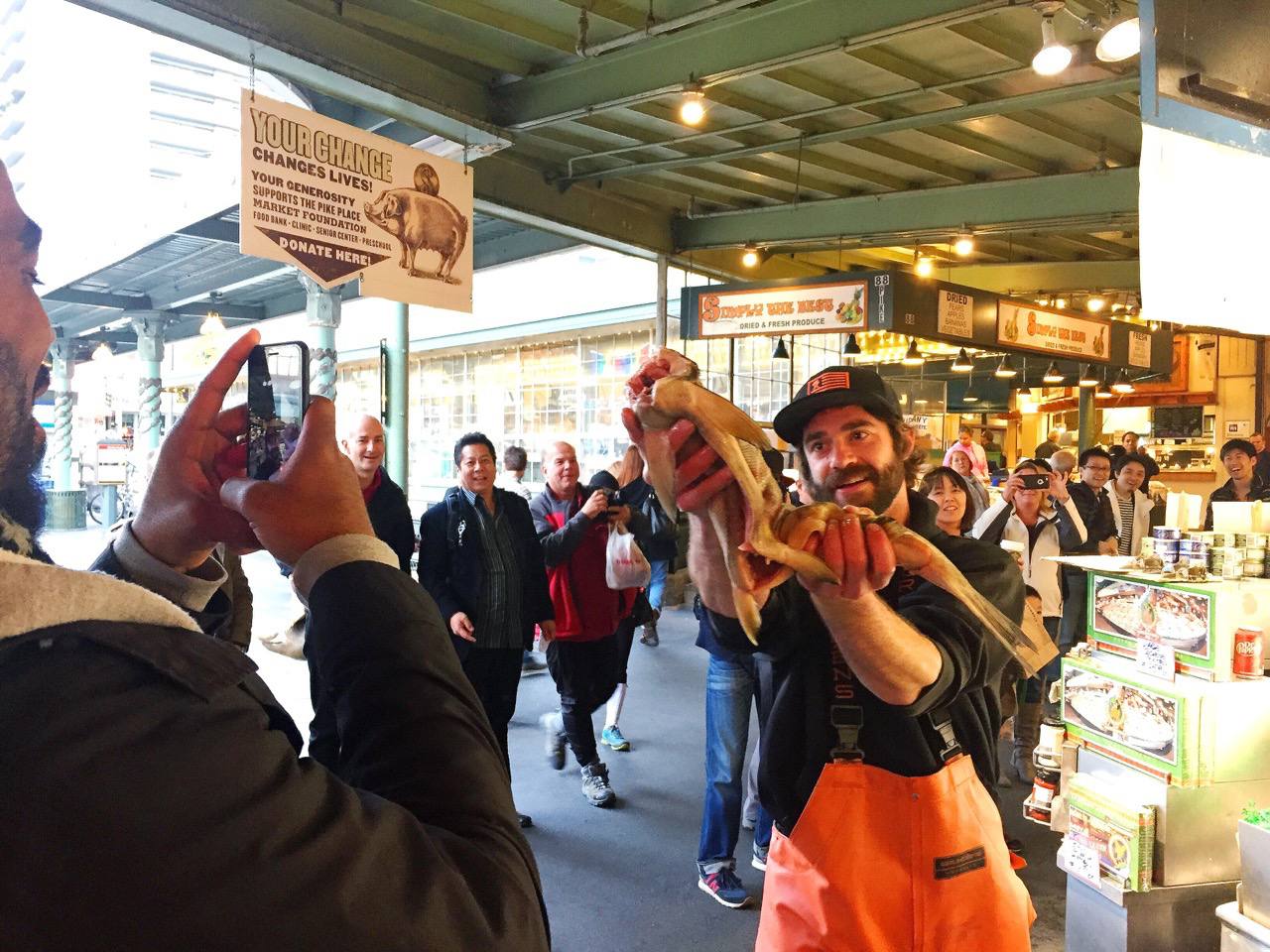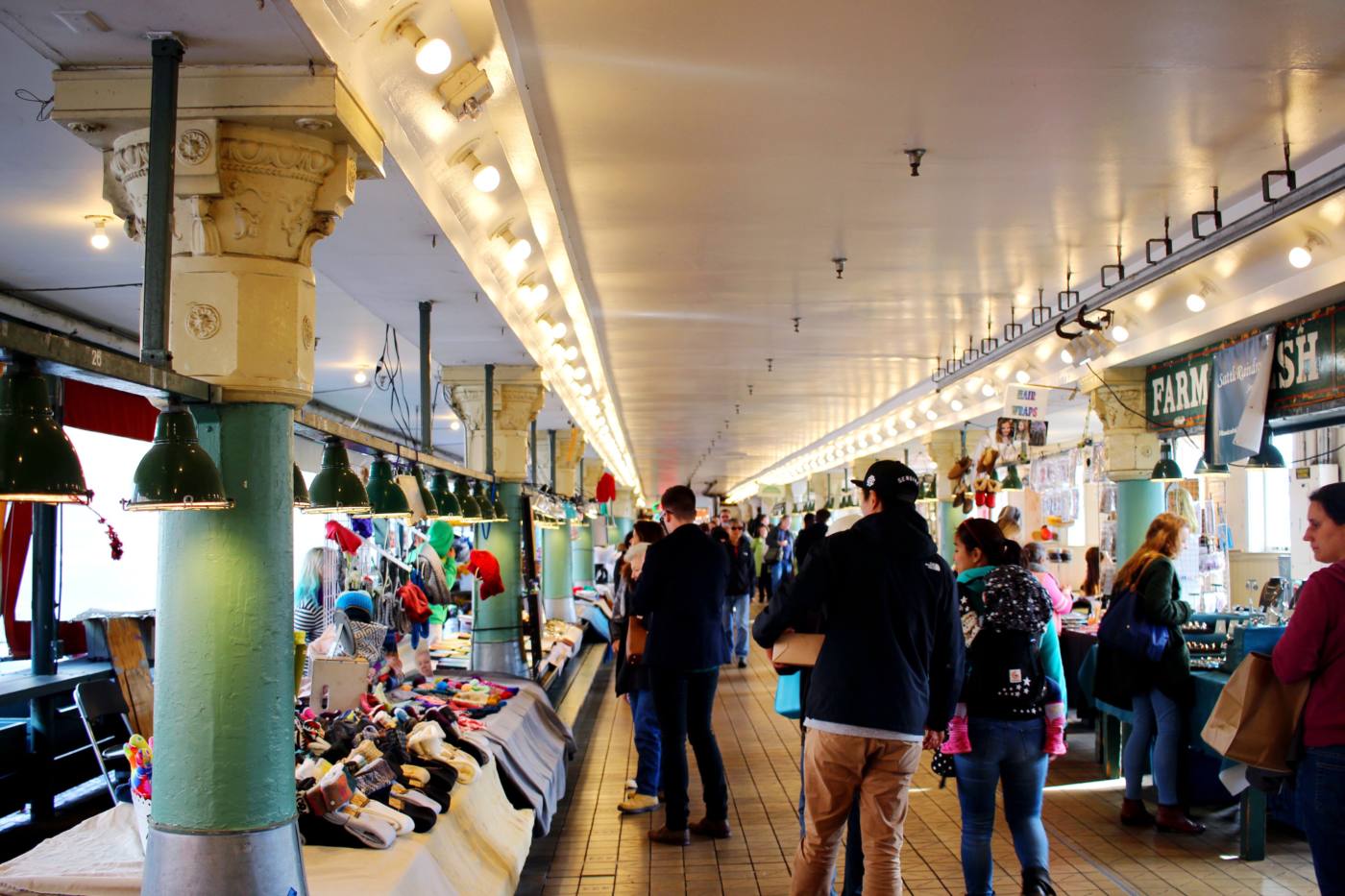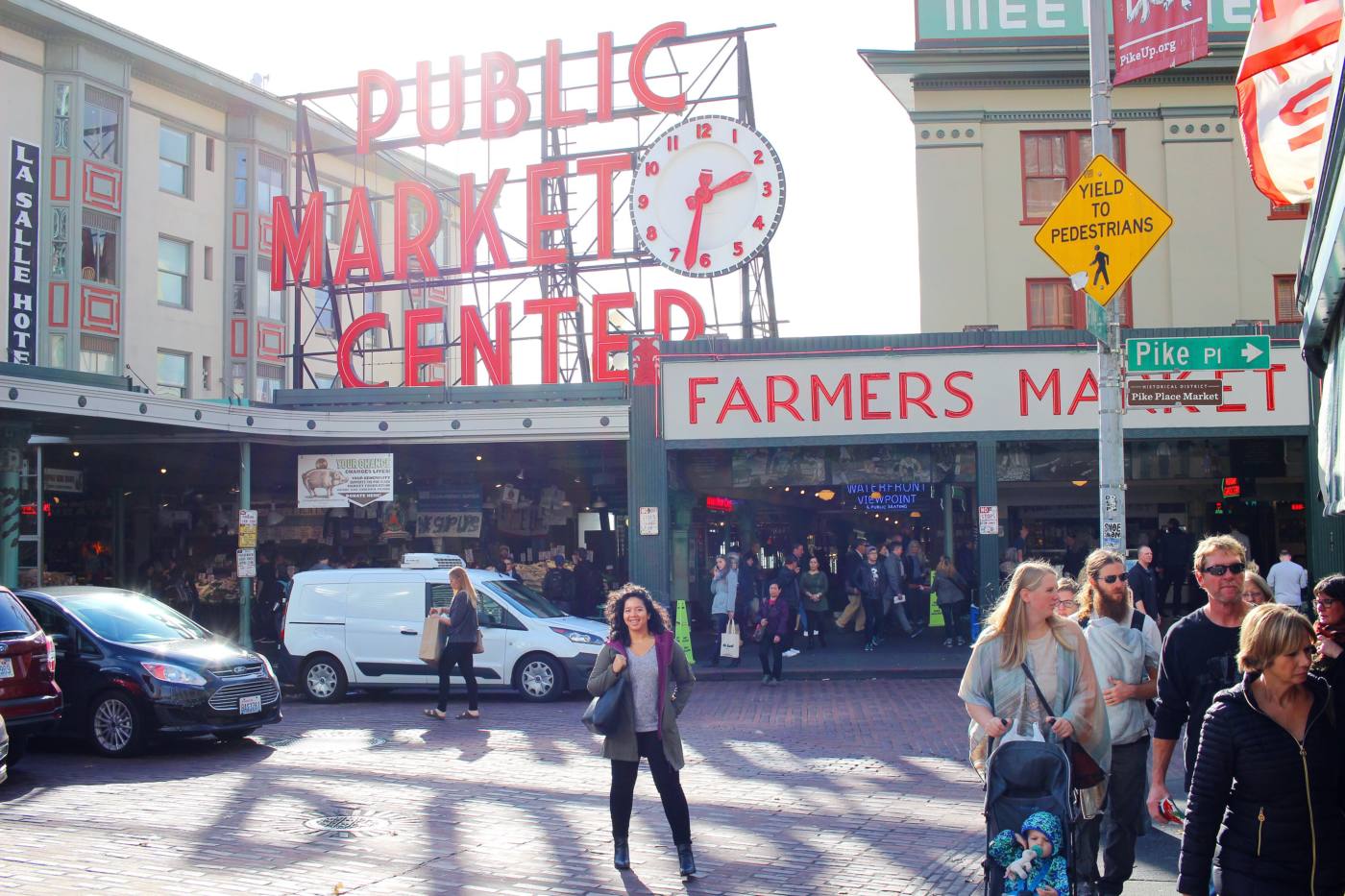 2) Pike Place Market: After lunch we hopped into another Uber and made our way downtown to check out Pike Place Market because what's trip to Seattle without visiting one of its most iconic landmarks? Charles wanted to see the fish fly and that's exactly what we did. After that, we snacked on fresh doughnuts while browsing through the many hallways filled with local vendors.
Cost: Free. Uber was about $6 and the doughnuts were $4.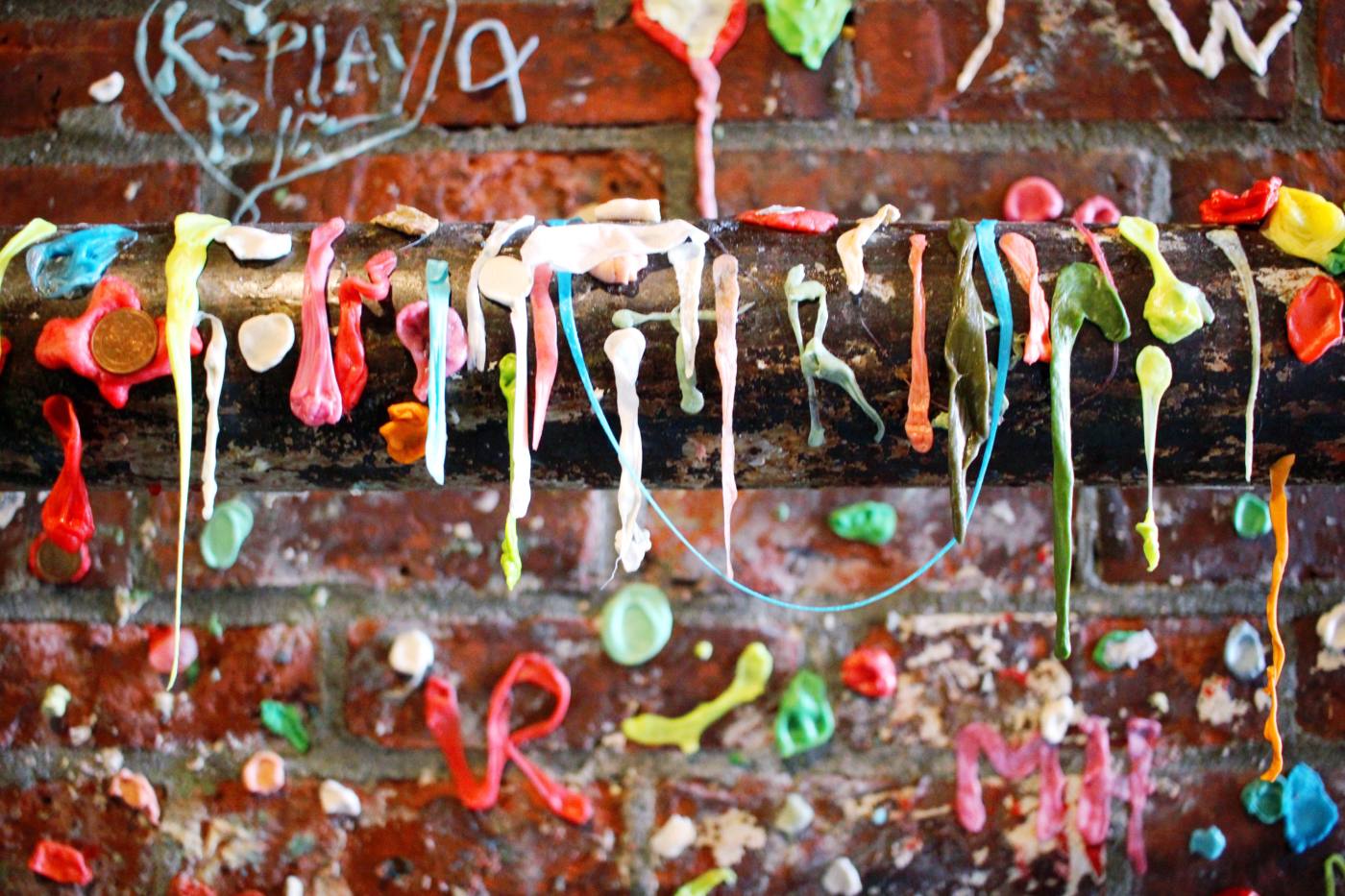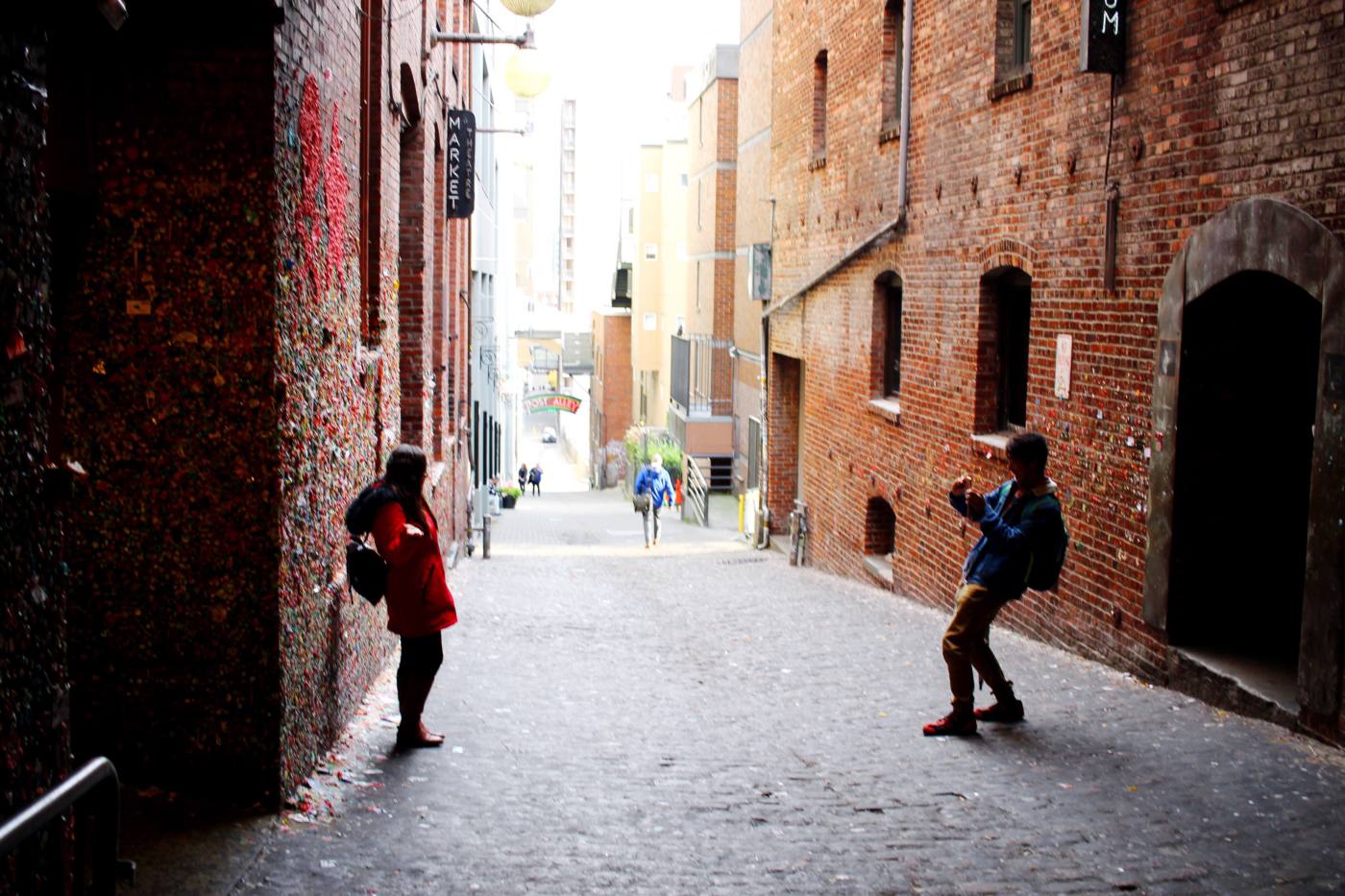 3) The Gum Wall: Located right next door to Pike Place Market, down Post Alley, is the most disgustingly amazing wall made of, you guessed it, gum. I'm not quite sure why or how this brick wall came to be so colorfully "decorated" but over the years, the gum wall has become a Seattle destination in its own right.
The City of Seattle actually had the wall cleaned earlier this year for the 1st time in 20 years for sanitation reasons so Charles and I weren't sure if there would be anything on the walls for us to see but alas, there was one small patch of wall already re-covered with gum.
Just goes to that you can take the gum away but you can't stop people from putting gum on the walls haha.
Cost = Free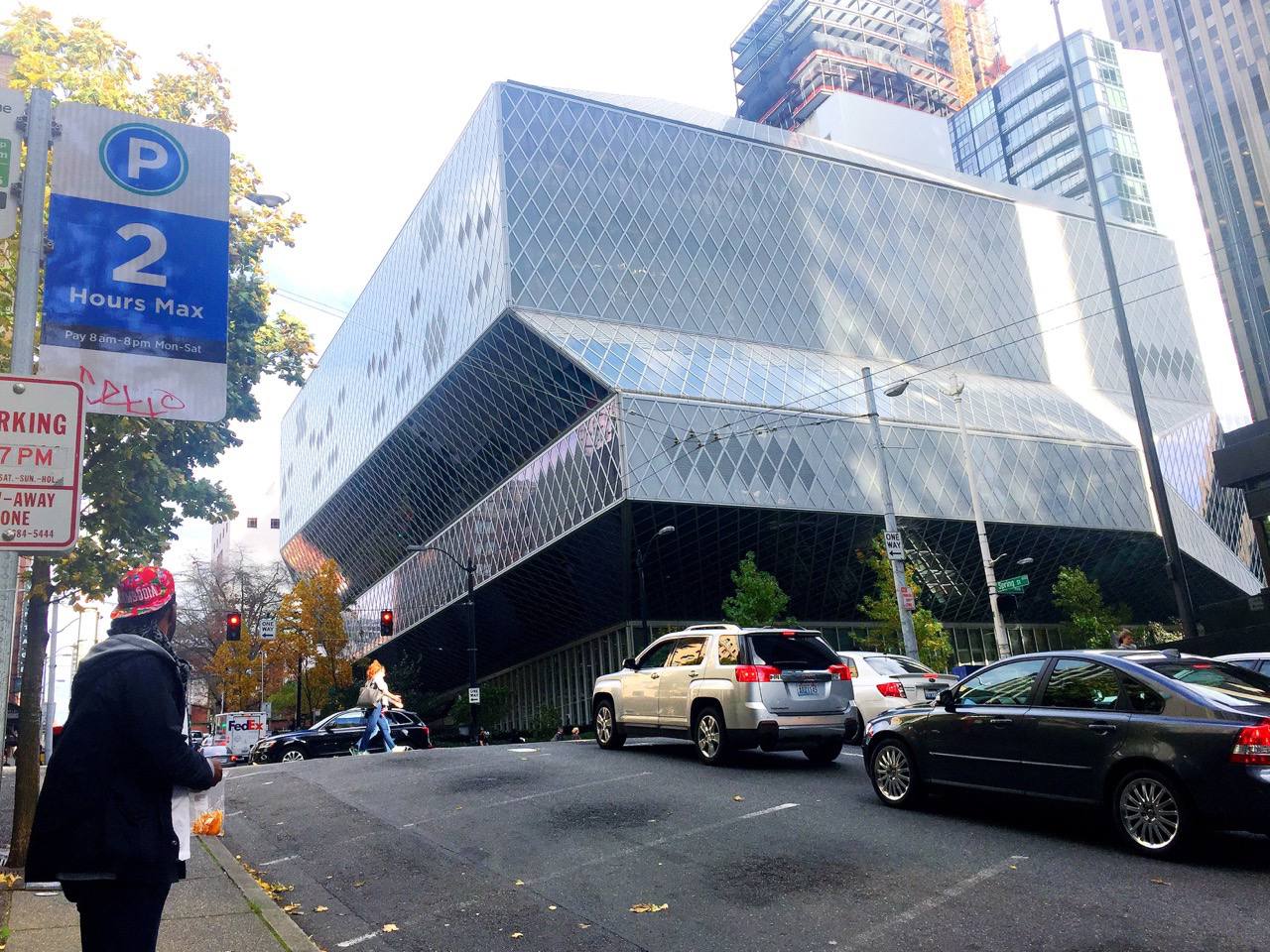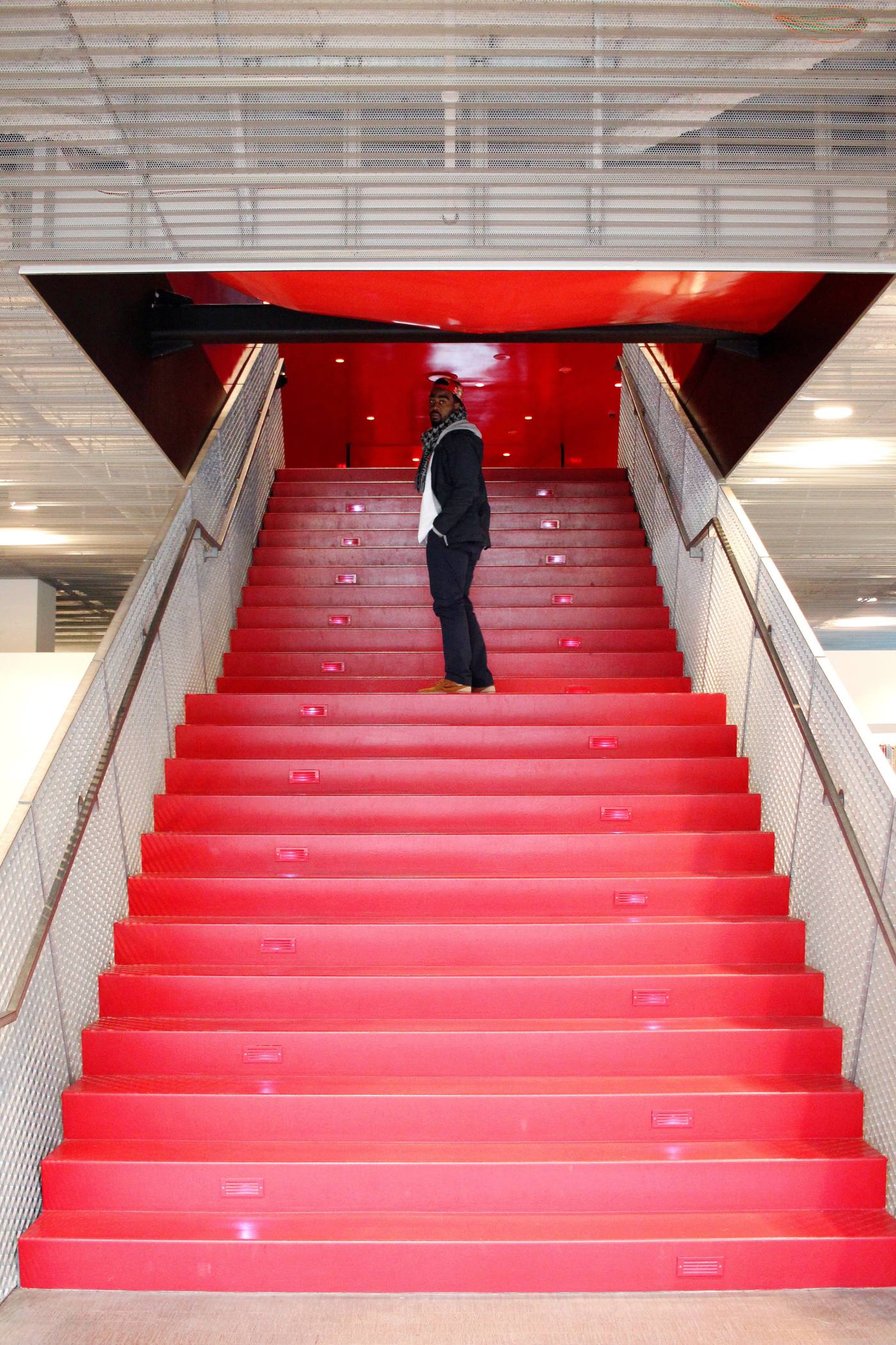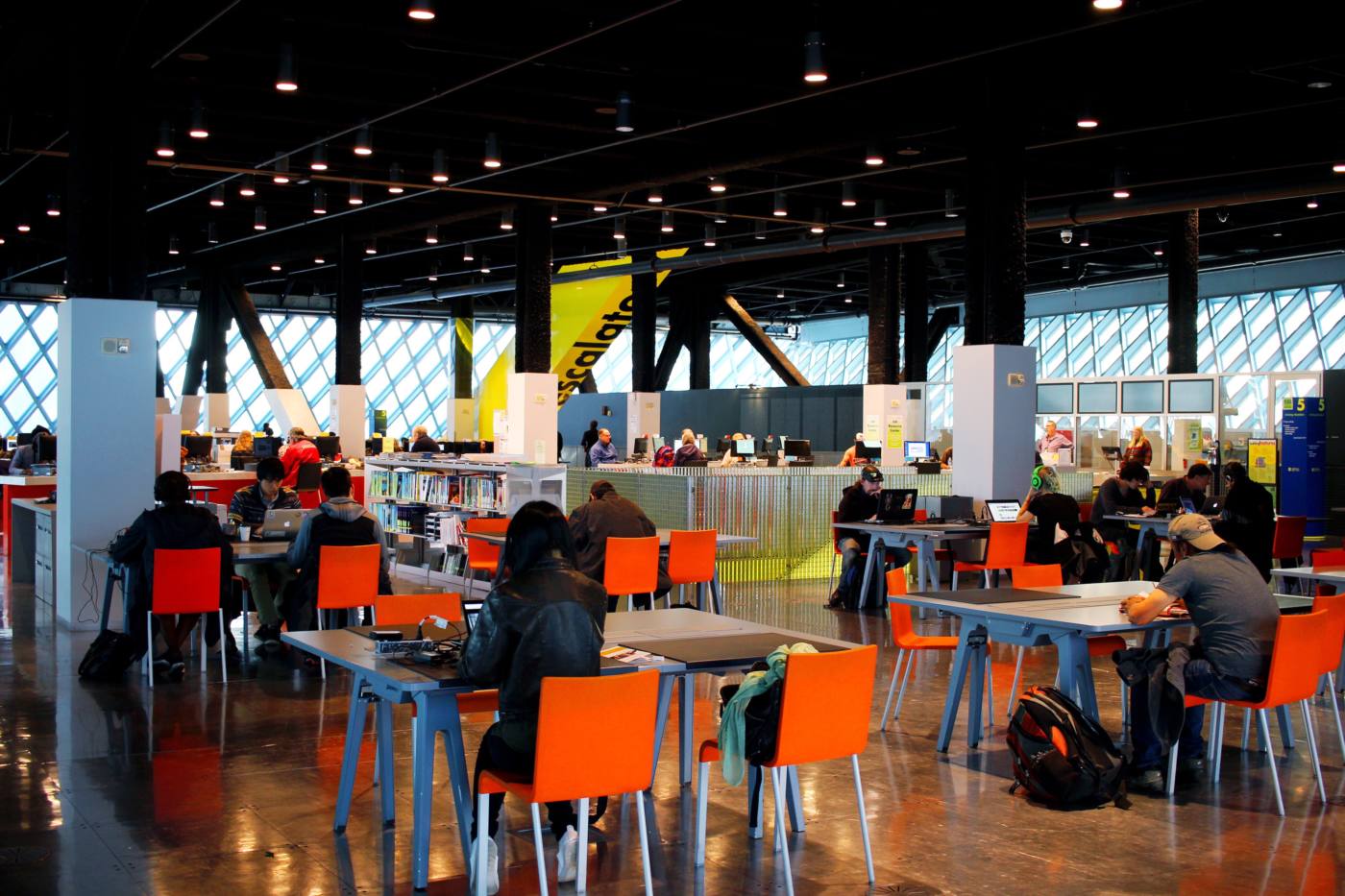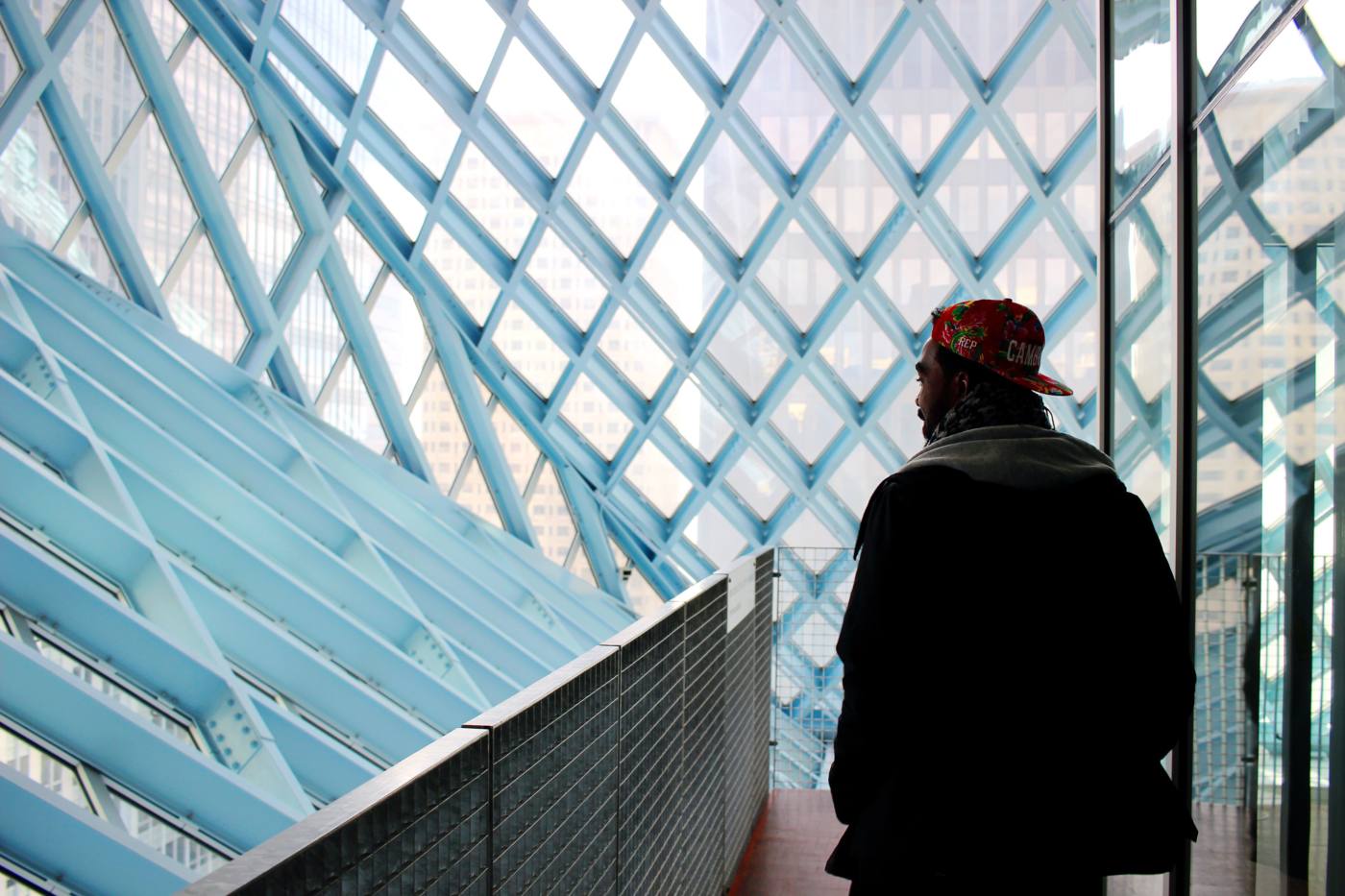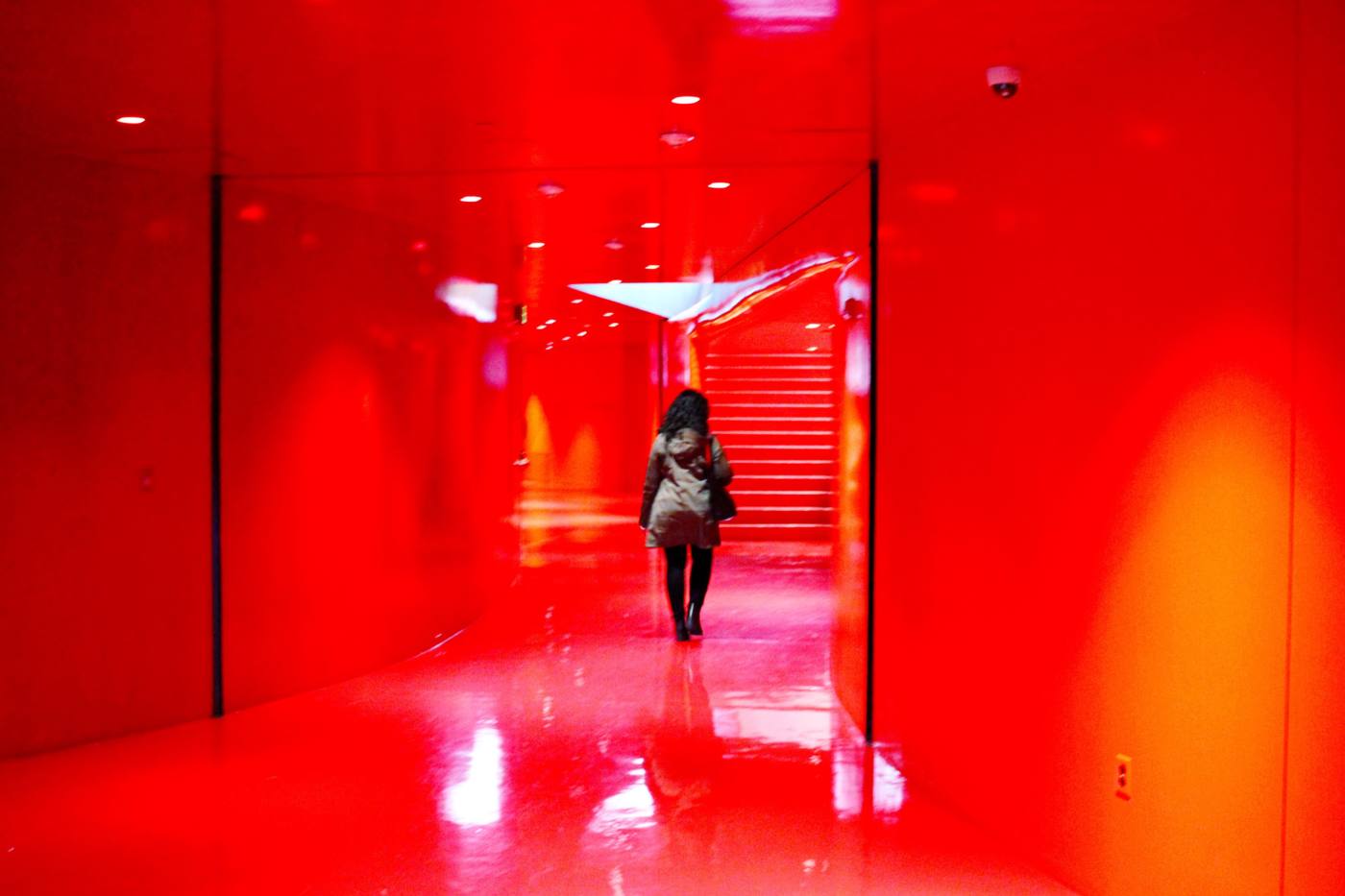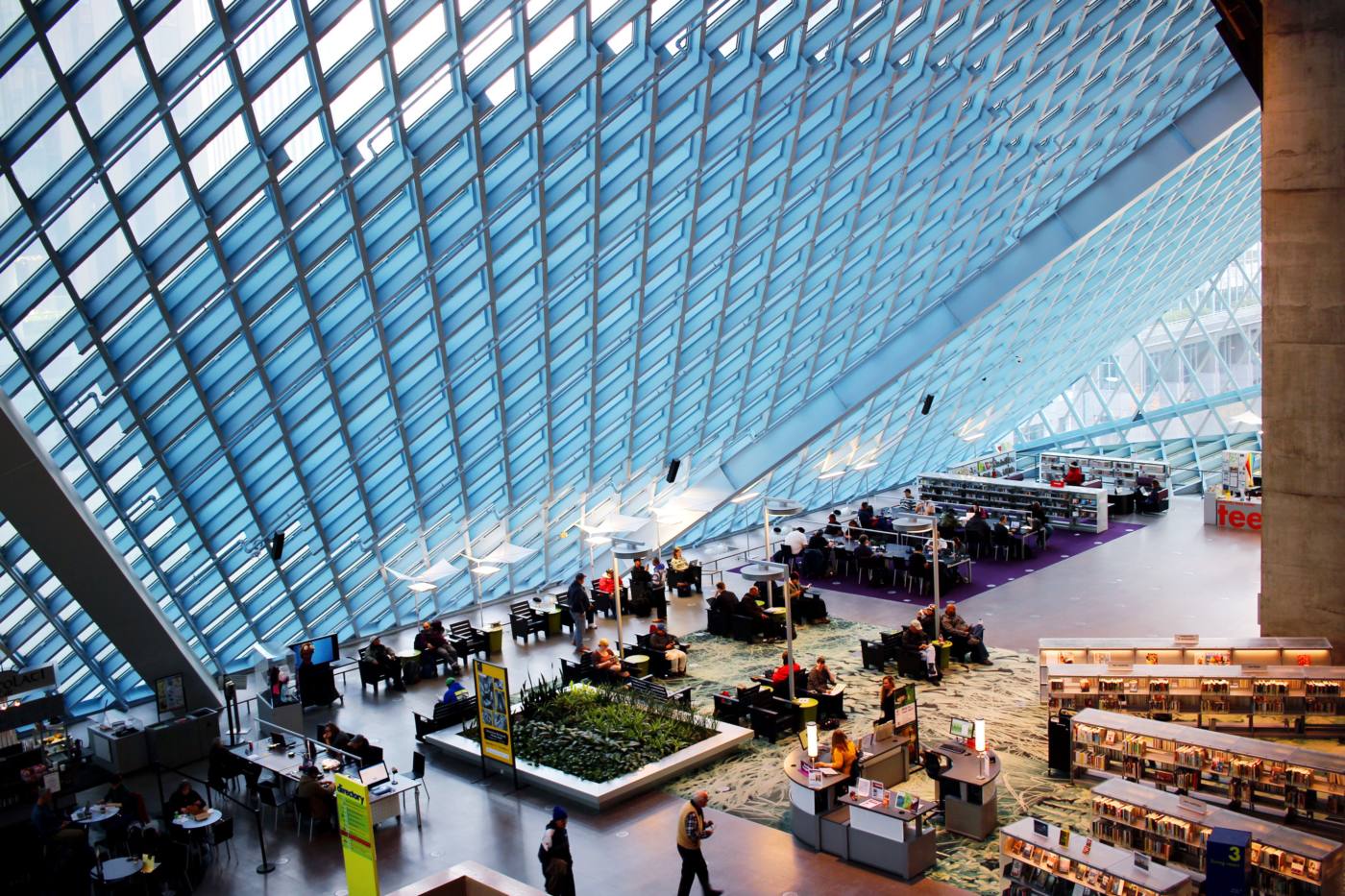 4) Seattle Public Library: After Pike Place and the Gum Wall, Charles asked "What else is around here for us to see within walking distance?" My answer, "The Seattle Public Library is about about a 7 minute walk from here and it's supposed to really cool architecture & design wise." <– Thanks for my handy list of things to see in Seattle.
And so, that's where we went.
Upon entering the library, we were super impressed by its size. The library is huge (7 floors total) and yet, despite how big and packed with people, it was really quiet. While walking around, we encountered a random but cool red hall and eventually made our way to a reading table. During that time, we rested our feet, charged our phones and I read a book I had brought along on the trip while Charles did a little bit of work on our iPad.
Those 2 hours we spent in the library was the most chill part of our trip in the best way possible.
Cost = Free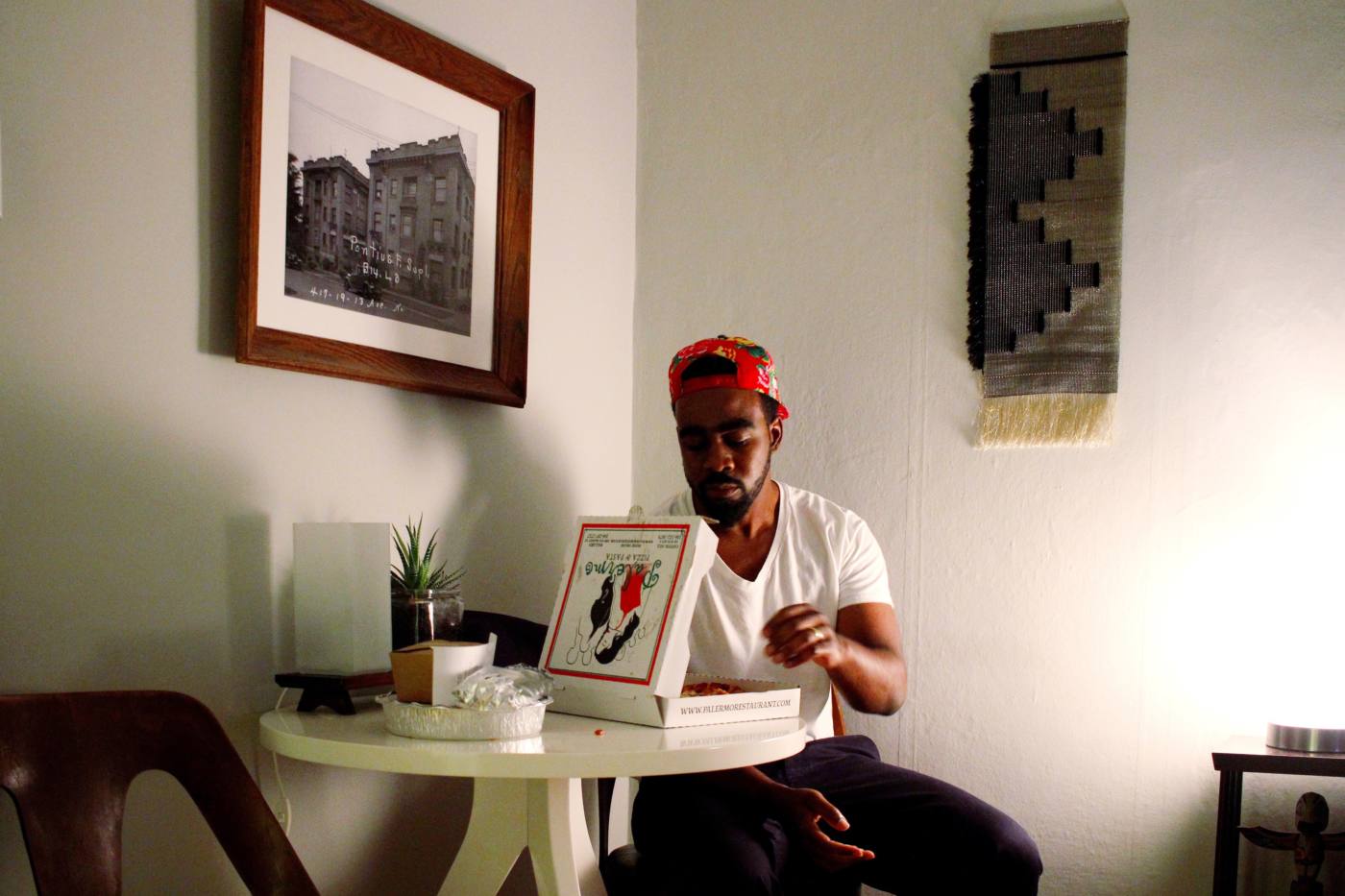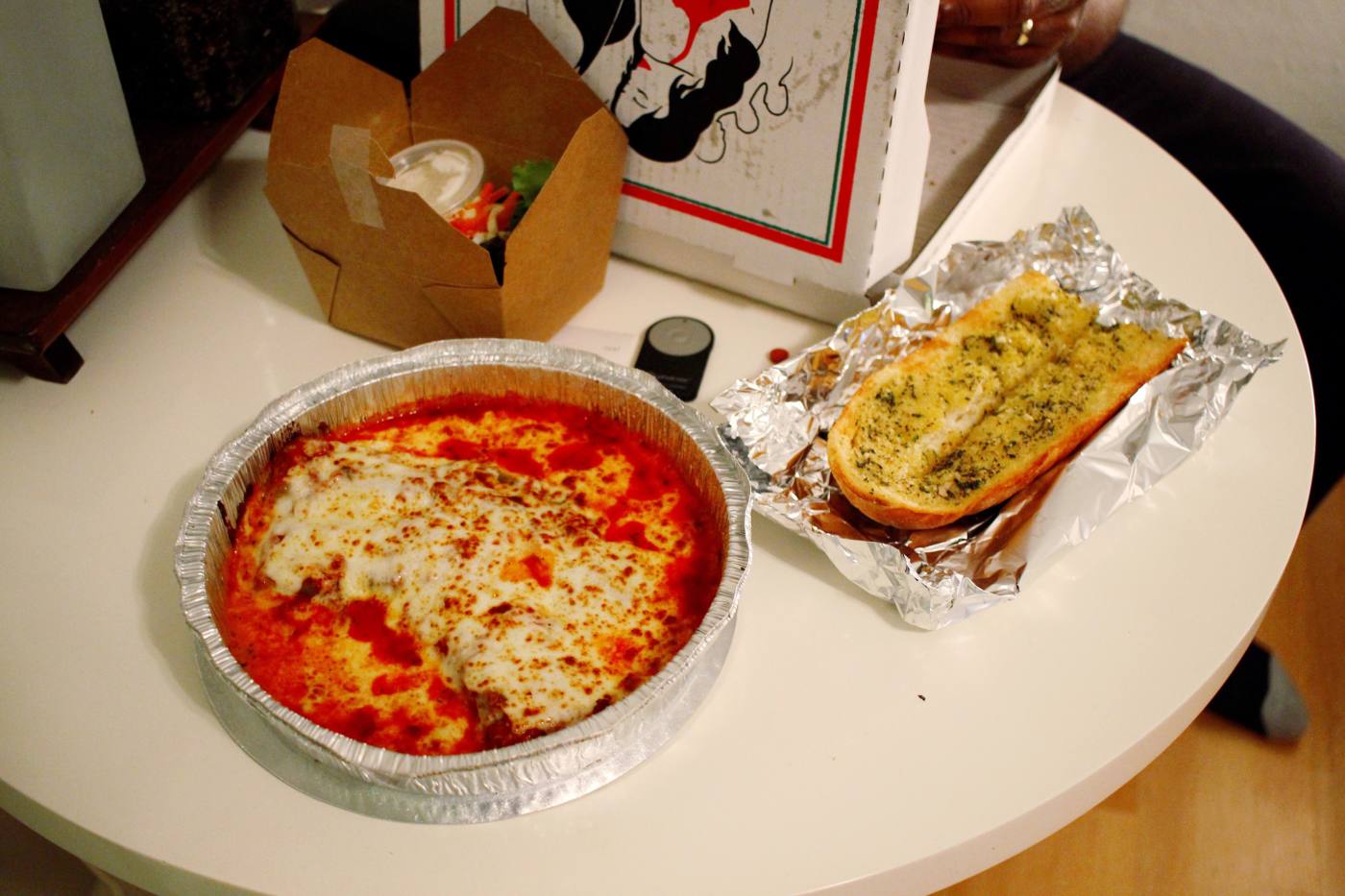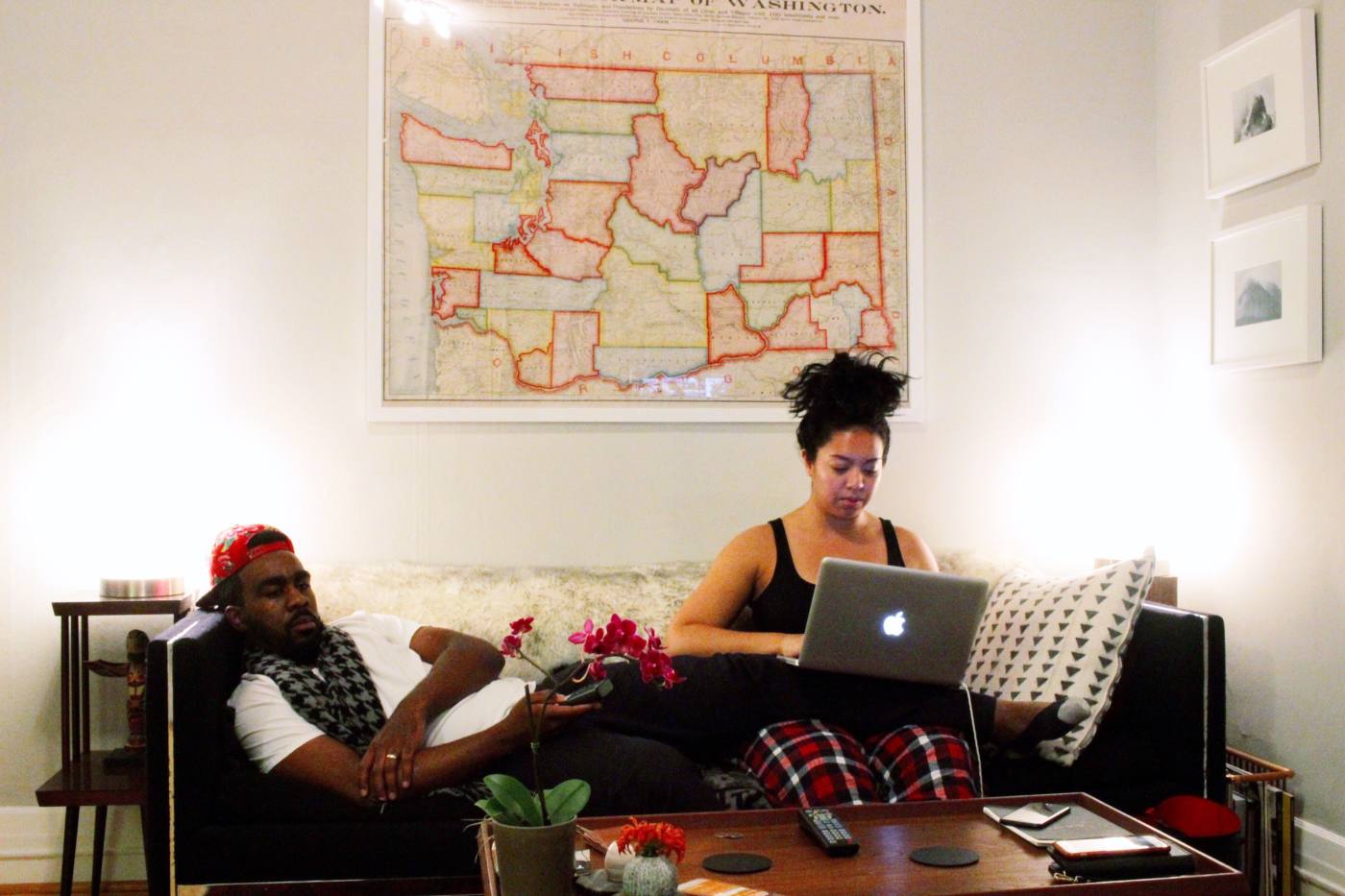 4) Order Take Out For Dinner At Our Airbnb: After the library, we hopped in an Uber and made our way back to the Airbnb. We ordered take out from Palermo Restaurant via Yelp 24 and hunkered down on the couch while Charles watched some football and I did schoolwork.
Around 10pm, we packed up all our things and then zonked out. The next day, we were up at 6 and headed to the airport for a 9:30am departure back to D.C.
Cost: about $25 for take out and $7 for the Uber.
—
Total Expenses For the Day = about $76
—
And that's that, my friends. Our last day in Seattle – Charles's style. Super chill, no expectations except to go with the flow and have a great time which is exactly what we did.
I've got one more cumulative Seattle post coming your way next week and then I'll be officially done recapping out trip! Woot Woot!
When it comes to travel, are you a "planner" or "go with the flow-er"?
P.S. In case you missed them, check out my previous Seattle posts here.
P.P.S. Linking up with Wanderful Wednesday.
0