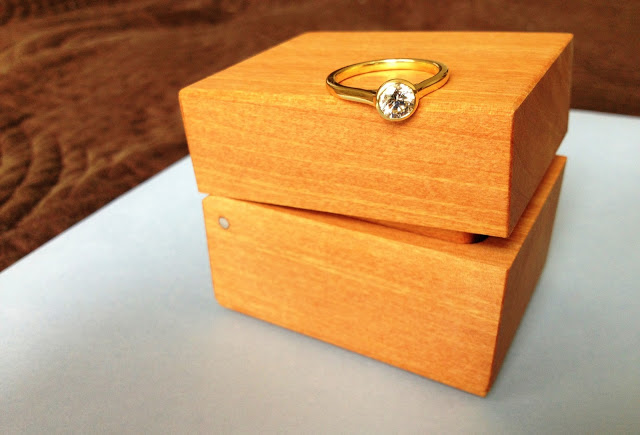 August 3, 2013
{We had just moved into our apartment the day before}
Early that morning, I woke up to the sound of Des'ree "Kissing You" playing the background.
In my mind, I thought "I love this song!"
and just laid there with my eyes closed listening to the ballad.
Half way through the song, I finally opened my eyes to find Charles laying next to me,
watching me in my sleep and as I took in the scene
I realized that there was a ring box sitting on his chest!
I didn't have my glasses on and being that I'm practically blind without them,
I pushed myself up and zoomed my face into his chest
to confirm that I was really seeing what I thought I was seeing.
Lo and behold, my eyesight hadn't failed me … It was a ring!
I exclaimed "Are you phucking kidding me?"
He said "Nope" and went on to describe the happiness within him
now that we were finally living together
and how ah-mazing these past 6 years have been.
I'm sure he said much more than that but I was listening to each word so intently
that I forgot the ones that came before it.
He then said "Will you marry me?
And with a smile and tears running down my face,
I said "You're supposed to get on your knee when you propose babe."
He chuckled and said "You right."
He then got off the bed, walked around and got on one knee in front of me …
And said …
"Setarra, will you make me a happy man and say you'll marry me?"
I said "Yes!"
And with a sigh of relief, he put the ring on my finger and it was just perfect …
How he was able to find a ring that was perfectly 'me' …
I'll never know.
The fact that he also made sure the diamond was conflict free
was a detail that made my heart melt even more.
I wish I could better describe everything that happened
But deep down inside, I know my heart remembers every single detail.
And that's what matters most.
Little did I know … He had one more trick under his sleeve…
~ To Be Continued ~

0