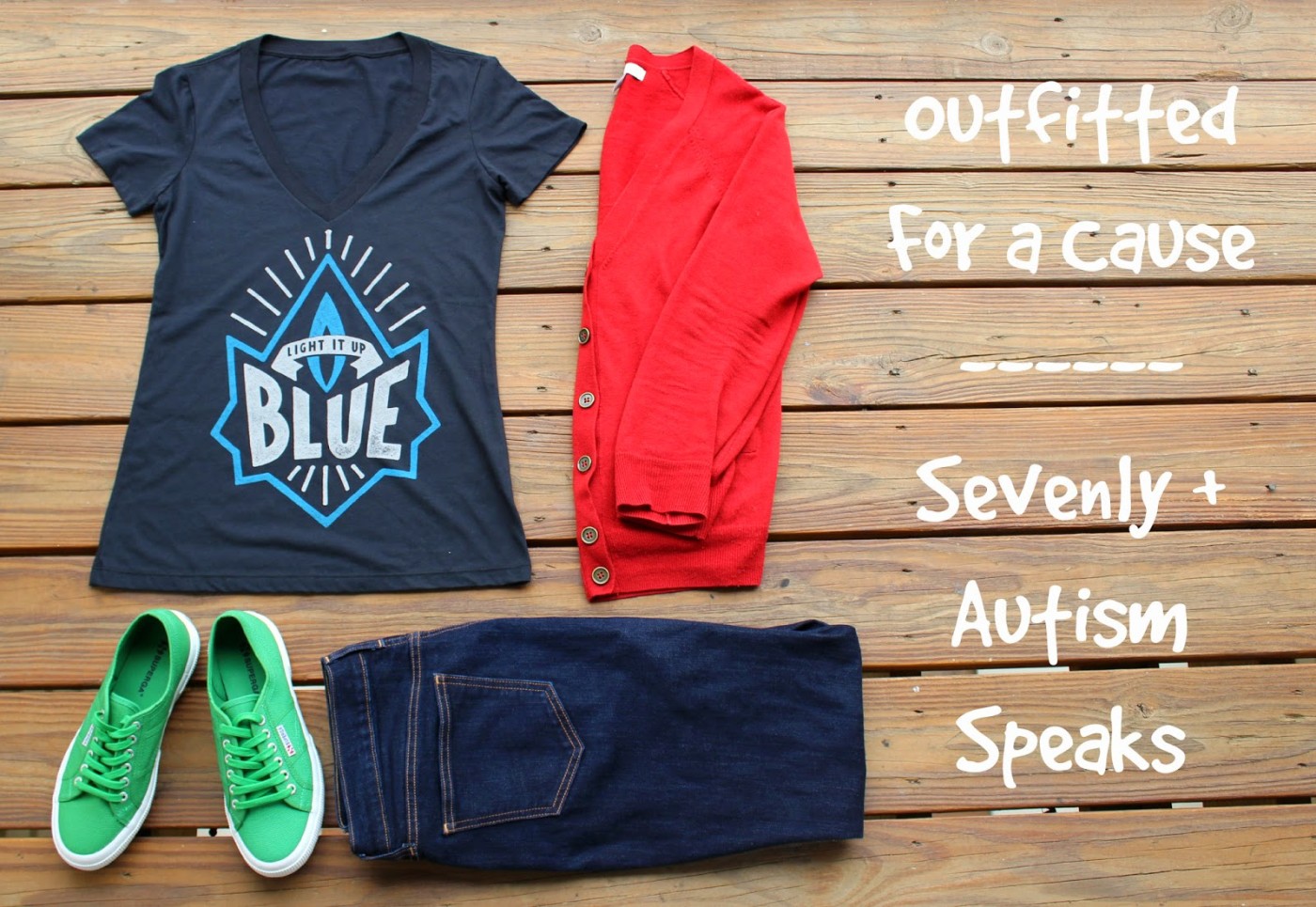 ^^^ How I Styled My Sevenly + Autism Speaks 'Light It Up Blue' Shirt: Found Here
Hi Guys! Just as I shared with you a cause that was near and dear to my heart last week, I wanted to  highlight a cause this week that is near and dear to one of my IRL (in real life) friend's heart. Today is World Autism Awareness Day and I have my girl, Lmya, on the blog today to speak with you about this week's Sevenly + Autism Speaks campaign! We linked up this past weekend, did a photoshoot in the rain and I had Lmya shine some light on her work with autism :)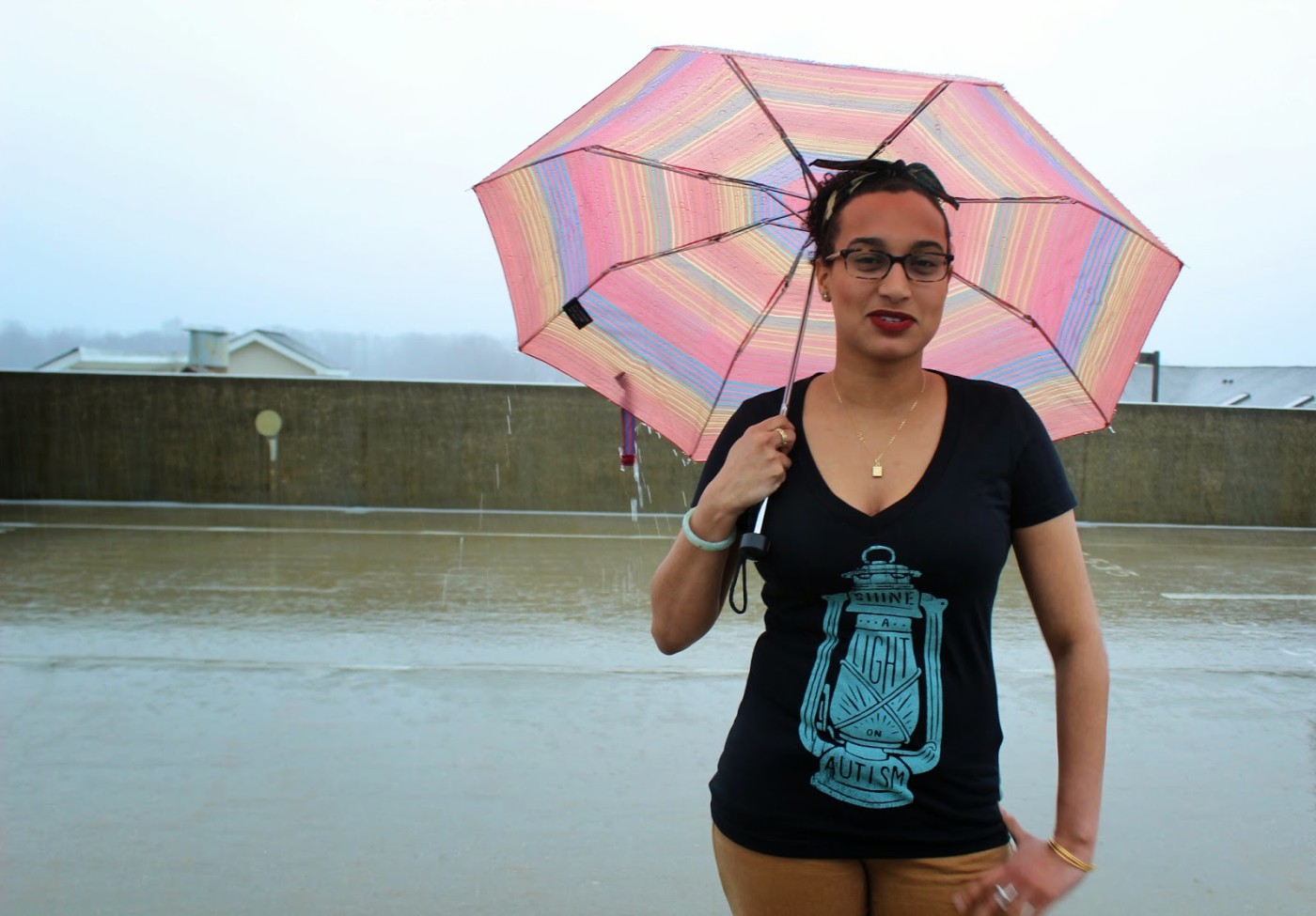 Hi Lmya! First off, thank you so much for joining me on this week's Sevenly + Autism Speaks campaign! Secondly, could you share with my readers a little peek into the work you do professionally?


Thanks for having me, Tootie! I currently work in an Autism program at a non-public as an ABA (Applied Behavior Analysis) instructor. The mission of our program is to provide individuals with autism and their families improved quality of life by helping each student achieve his or her full potential. We do this through individualized student-focused programming using research-based procedures. Additionally, the program maintains a strong commitment to the advancement of research in the education and treatment of individuals with autism and within the field of Applied Behavior Analysis.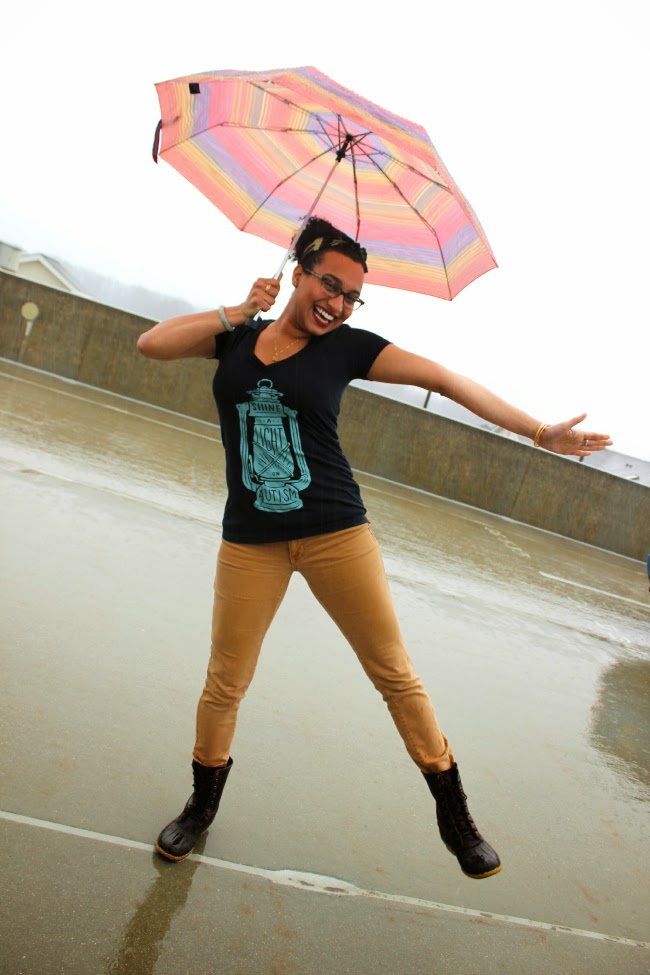 How has working with individuals with autism impacted you?
Can I just gush a bit about how I ADORE this population? I have worked with this population for the last 7 years with my experiences ranging from work with toddlers to post-secondary young adults. I cannot even begin to describe the multitude of lessons my students have taught me throughout the years. My students have taught me the simple joys in life. They have taught me how wonderfully healing a genuine hug can be. They make me envious of their abilities to see the beauty in colors and lights like no one else. My students are resilient, perseverative and brilliant. They come up with the ultimate life hacks (ask any parent of a child with autism and they will tell you just how that child perfectly negotiates their environment).  My students are the reason why I go to work every morning. They challenge me day in and day out and make me a better person. As a teacher, nothing compares to the feeling of pure elation and accomplishment than when a child who once use to have hour long tantrums now uses functional communication to request more time on the computer. Or when a teenager who at the beginning of the year use to have an average of 3 word utterances per sentence now has 6 to 7 utterances per sentence.
My students show me things about our society. Chew on this for a sec: we all experience life very differently, Am I right? The society we grow up in dictates to us how to "appropriately" cope with our life experiences. Throughout our lives, we are conditioned to respond to certain life events in a socially acceptable way. But what if we do not pick up on society's hidden curriculum? What if we don't pick up on the fact that it is not socially appropriate to sneak a whiff of the cashier's coconut pomegranate shampooed locks because it smells so tantalizing? Or that it is not socially appropriate to request squeezes from strangers because they just feel so darn good? Or that it might not be deemed acceptable to laugh hysterically when grandpa comes around because his life lines (i.e. wrinkles) are so wonderfully amusing? How differently would we view autism if autism was not juxtaposed with society's definition of "appropriateness"?  In no way am I attempting to mitigate the daily plight some individuals with autism struggle to cope with. I work with students who are dangerously self-injurious and aggressive to no fault of their own but think about the senseless battles we pick and expectations we put on individuals with disabilities in an attempt to make them "normal". Go ahead, I'll let you think on it….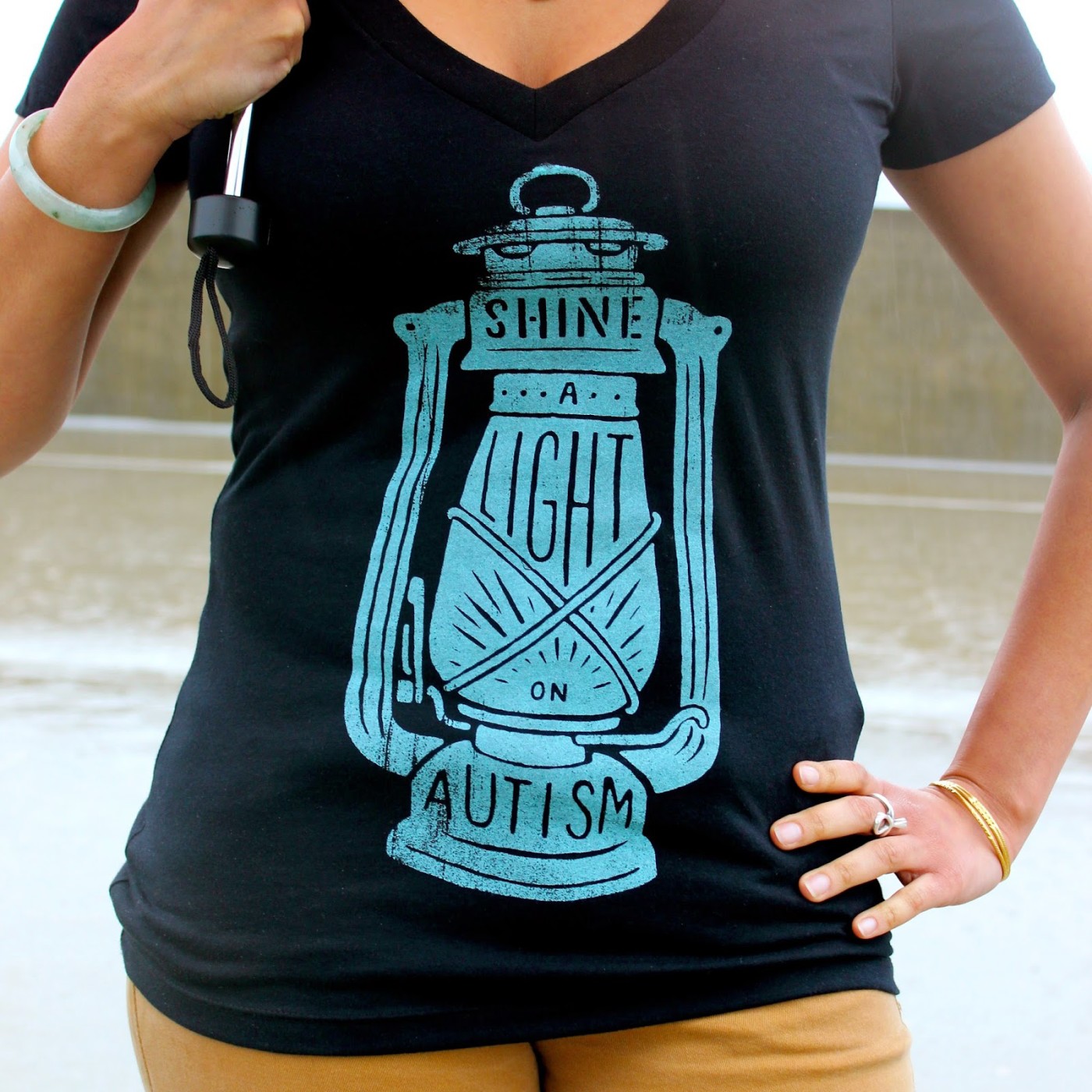 What is your experience working with Autism Speaks and could you explain a little more in detail about what this organization does?


Autism Speaks is an advocacy organization "dedicated to funding research into the causes, prevention, treatments and a cure for autism; increasing awareness of autism spectrum disorders; and advocating for the needs of individuals with autism and their families."  Autismspeaks.org is a wonderful site that I refer anyone interested in learning about autism. They've got some great stuff on there! They have articles on the latest autism research, tool kits dealing with an assortment of issues from toileting to going out to eat, local resource guides for individual states, etc.  I personally attend the Autism Speaks' annual Walk Now For Autism. Additionally, some of my high school students work at Autism Speaks learning vocational skills for future employment.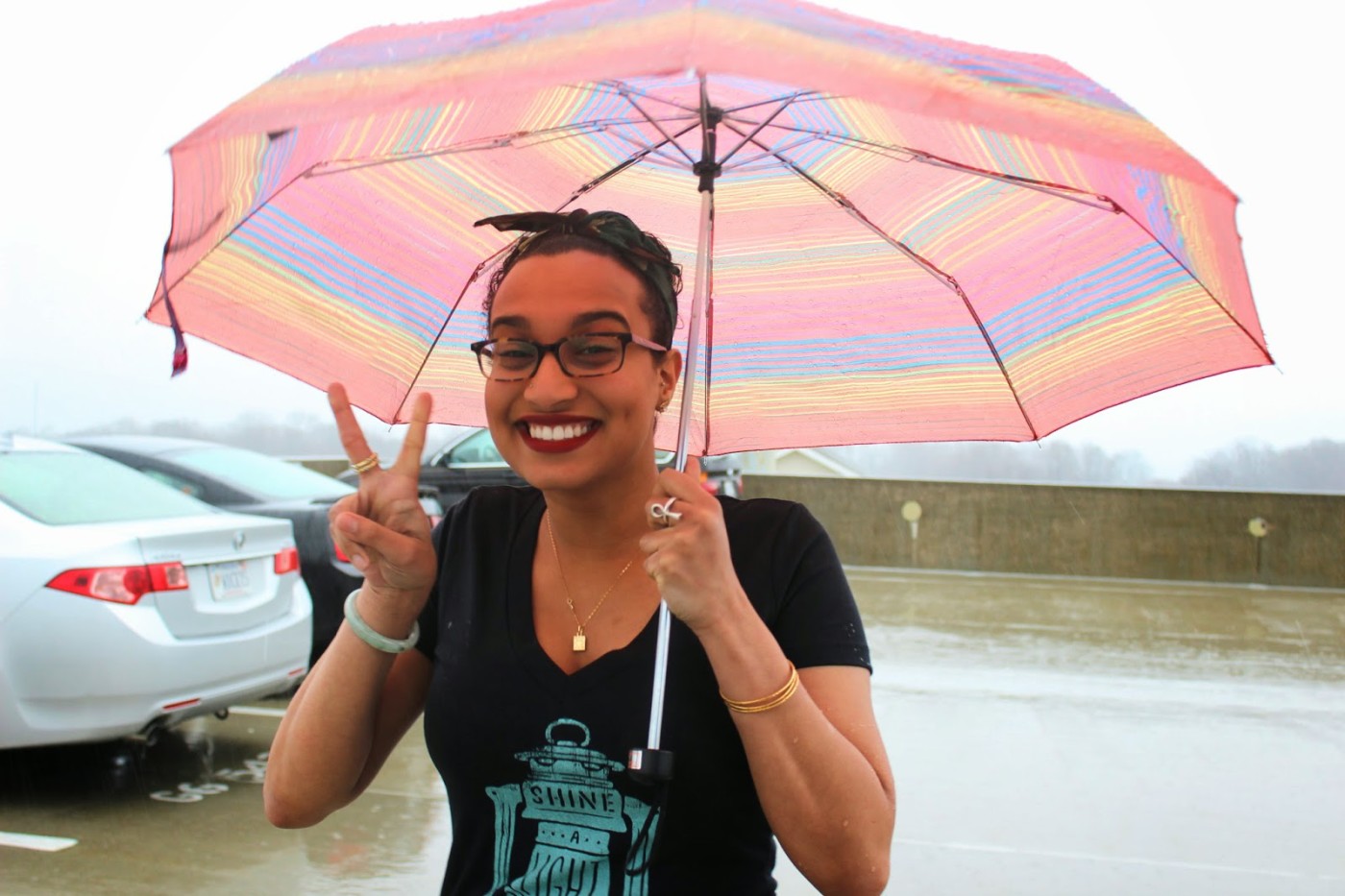 And lastly, why is it so important to shine a light on Autism?
As of March 27th, 2014, the CDC released new data on the prevalence of autism. 1 in 68 children in the US are affected by autism. 1 in 48 are boys. To date, we do not know the cause of autism. The numbers are staggering. If for simply being a bit more sympathetic and patient when a kid is having a hard time at your local grocery store, please, I urge all your readers to
educate themselves on autism
.For every item purchased on
Sevenly's site
this week, Sevenly will donate $7 to Autism Speaks which will go towards providing locating devices that will help keep children with autism safe. The bonus with this week's campaign is that The Cantor Fitzgerald Relief Fund will match Sevenly for each donation! This equates to $14 donated to Autism Speaks in total for every purchase! So what are you waiting for? Go get yourself an awesome shirt like the one
I'm wearing
right now and help to shine a light on autism! xx, Lmya
To purchase the "Shine A Light On Autism" shirt Lmya is wearing:
Click Here
.
You can learn more about this week's Sevenly + Autism Speaks campaign
Here
.
*** Isn't the Lmya the coolest! I feel so lucky to have such an ah-mazing friend who inspires me to continue pursuing work that I'm passionate about :) And why yes, my friends call me Tootie haha… If you've made to the end of this post, I hope you have an awesome Wednesday and remember, No Act Of Kindness Is Ever Too Soon.
0