Let's discuss my process for talking Charles into doing this slightly risque Self Portrait Sunday (SPS) session with me… Because surprisingly, I didn't meet as much resistance as I anticipated and believe me when I say I was prepared to nag haha.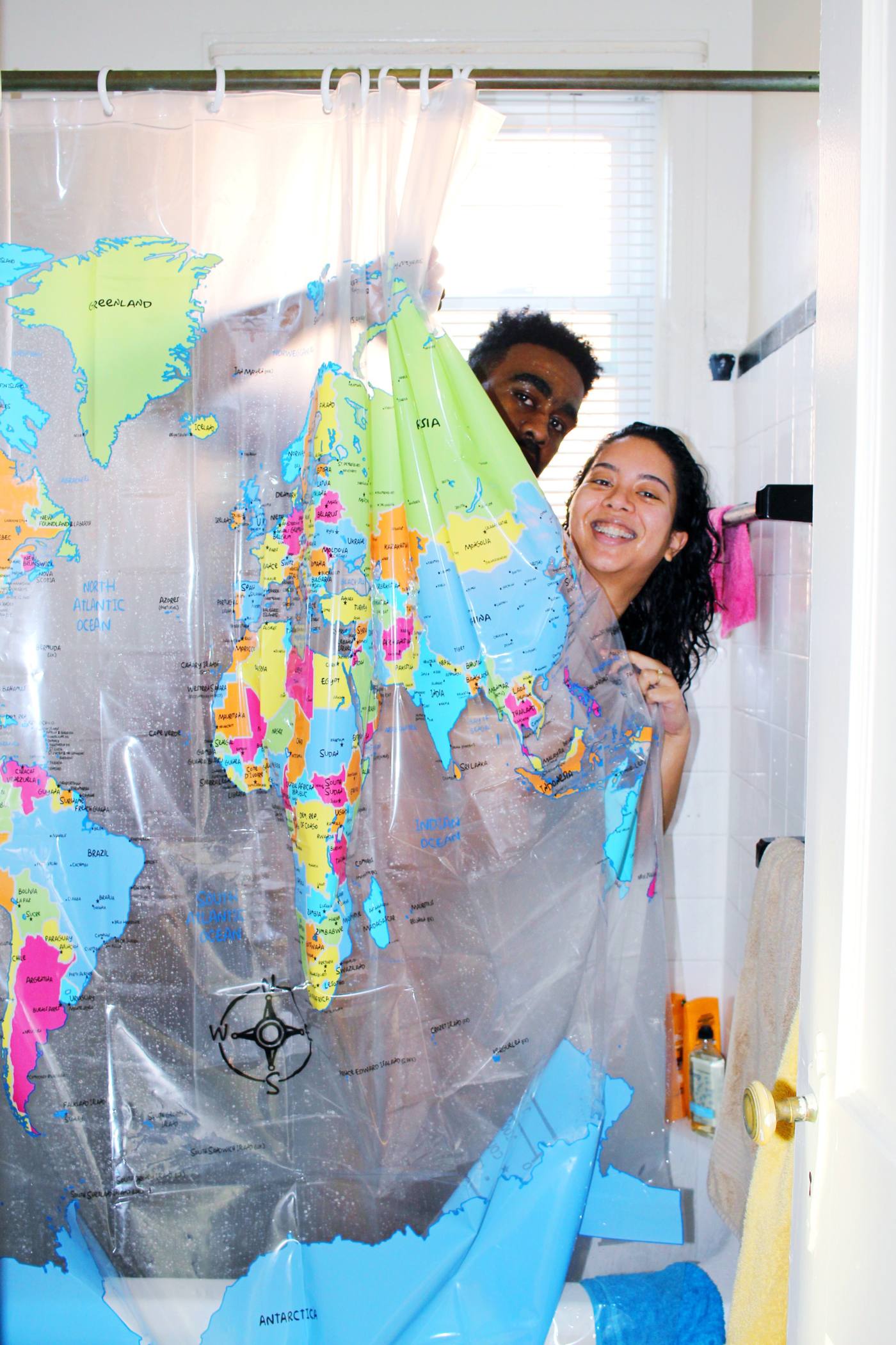 Flashback to last December as I was googling "National Holidays for 2017" in search of blog post ideas for this year and I came across "National Shower With A Friend Day" which just so happens to be TODAY.
The minute I saw this holiday, I called to Charles, who was in the kitchen, and said, "Babe. Let's take pictures in the shower together for National Shower With A Friend Day."
Him: "You mean like in the shower? Naked?"
Me: "Uhhh yea. We gotta keep it authentic."
Him: "You know our shower curtains are see through."
Me: "They aren't see through. They're foggy. You can see color and body outlines but you can't actually see body parts."
Him: "Who's gonna take these pictures?"
Me: "My tripod and remote. The one you got for me so I could take pictures like this."
Him: Silence…..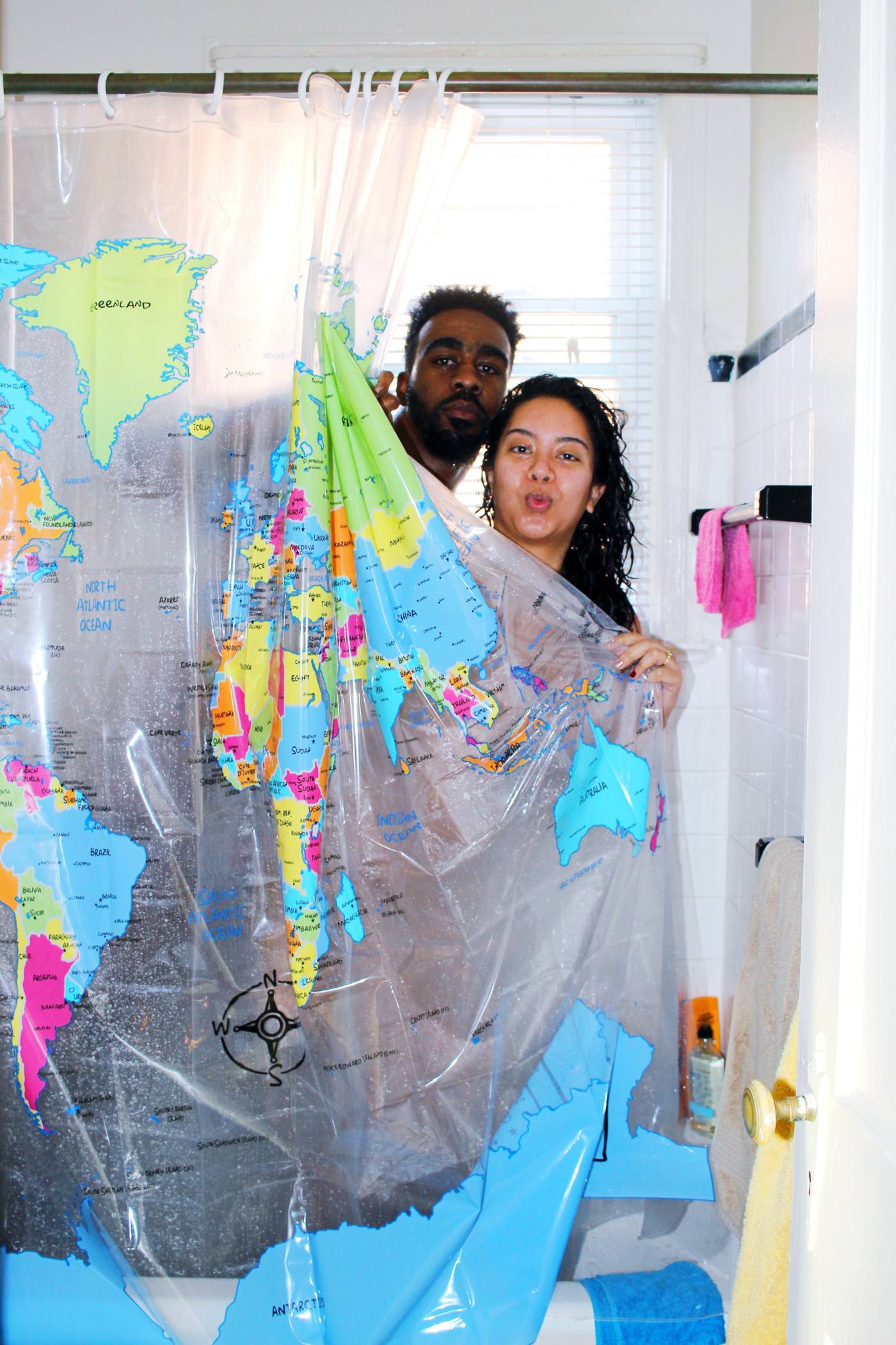 (10 minutes later)
Him: "We can take the pictures… BUT I need to look them over afterwards and if I don't feel comfortable, then you can't publish them on the blog. We can print and frame them and put them on the bathroom wall or whatever you want. But not on the blog unless I say so."
Me: "OK! (insert hyperactive, excited wife here) Trust me, you're gonna love these photos. They will be just a little risque but I promise, all body parts will be covered."
Him: "Mmmmm Hmmmm." a.k.a. "my wife is crazy and why do I let her talk me into doing things like this?"
And so the photos in today's post are the ones that "made the cut" after our quick one minute photo session in which I snapped 8 quick photos followed by us taking a legit shower together afterwards.
Post shower session, Charles had every photo zoomed in with his face pressed up to our iPad's screen to see if there was any vagina, penis or nipples showing through the shower curtain in the pics.
Funny thing is… After he gave his seal of approval is when I started having doubts.
Earlier last week, I even asked Charles, "Do you think these photos are too much?"
To which he responded by giving me major side eye and said, "Girl. You talked me into taking these photos with you and now you wanna have doubts. Too late. I approved the pics. You better publish them."
Me: "But what about what other people might think?"
Him: "If anyone has anything to say, tell them we married."
Me: "True."
And that was that, end of discussion lol.
—
With that said, photos are published.
Today is National Shower With A Friend Day so you know, make sure to save water and shower with a friend.
How you choose to define "friend" and what you decide to actually "do" in the shower? Well, that is completely up to you ;)
The End.
0