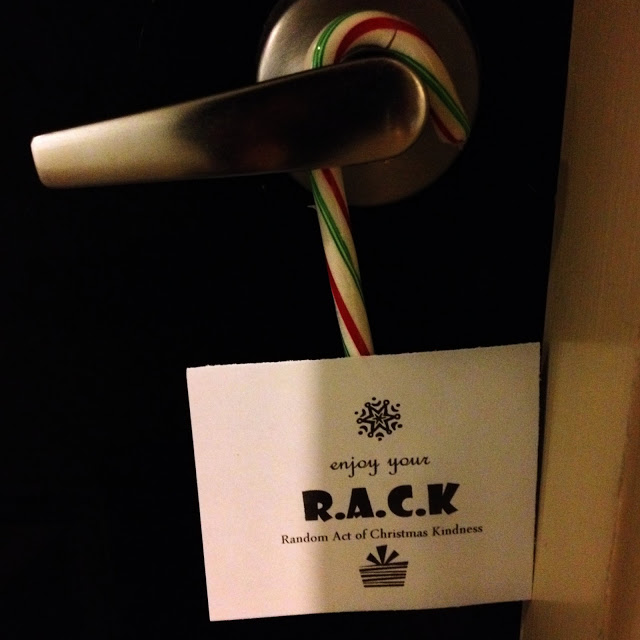 I guess it's time to finally acknowledge that it's December!
And what better way to start off December than to come home after work yesterday evening and find a candy cane hanging on my door knob with a sweet note (see photo above). I was completely caught off guard but genuinely touched by this Random Act of Christmas Kindness (RACK). Granted, there were candy canes on every apartment door knob on my floor but I checked out the apt. floors below and above me and they didn't have candy canes… Soooo by process of elimination, I'm thinking the gift may have come from someone who lives on my floor… Hmmmmm.
Either way, this RACK inspired me to hop on the computer last night and look for volunteer opportunities in December in the area… And what do you know? The Capital Area Food Bank in DC had some openings available the day before Christmas!
So what does this girl do? She signs herself up to help sort and pack food for the homeless. And then she signs Charles up to volunteer as well as her brother, who will be in town from Chicago. And then she talks her girlfriend into volunteering before finally sending out an email to her circle of friends, inviting them to join her at the Food Bank if they're interested as well… And all this would never have happened without the help of a little candy cane from a random stranger looking to spread the holiday cheer. Mind you, I don't even like candy canes like that haha!
Tis the season for giving, my friends… All it takes is one little act of kindness to initiate the chain reaction for more acts of kindness to manifest and spread. If anything, my resulting actions are proof that this approach works. We need more Random Acts of Christmas/Holiday Kindness in this world… Thank You Mystery Person… I Promise To Pay It Forward :)

P.S. Happy Birthday to my wonderfully amazing ratchet twin, Kim!!! Kim recently moved to San Francisco this past fall to pursue her Masters Degree in Photography. And while I'm sad she's so far away, I couldn't be more proud of her for following her dreams. She is one of those friends who is constantly inspiring me to strive for more in my life. Annnnnd she's also one of my real life friends who has a blog as well!! Check out her ah-mazing work at KimArteche.com. Love You Mama <3

Facebook | Twitter | Bloglovin | Instagram
Linking Up With:
Totally Posted, Random Wednesday, Tell All Tuesdays, Treat Yo Self
0