Haven't been out and about in New York for a while since my knee surgery … I'm still walking around with a knee brace but I'm definitely feeling stronger these days. What with the weather looking marvelous, it's time to start going out and take in what the outside world has to offer.
Which brings me to this blog and what presently is the first post I'm writing right now … I don't what this blog's purpose is but I do know that being stuck in bed these past couple of months has sucked big balls and I've been such a debbie downer. Not having some kind of artistic outlet has been very depressing so I assign this blog as an outlet for myself in the meantime. Even if I can't dance right now, I can walk and I'm bout to walk my ass all over New York while I'm here … Even if it means taking solo dates when no one is available to come with. Debbie Downer no more … Perky Patty is about to be back in business…
—
This past weekend, I went out with a couple girlfriends to a spot I've never been before:
The
Radegast Hall & Biergarten
in Williamsburg, Brooklyn.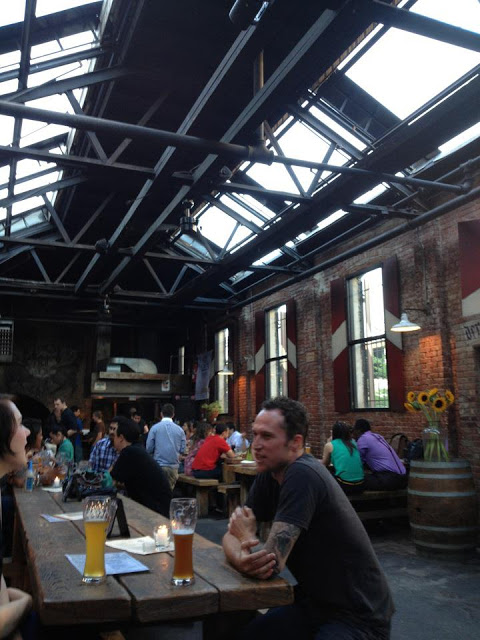 Located about 10 min. walking distance from the Bedford Ave. stop on the L line, this hall looks pretty small from the outside but as they say, "never judge a book by it's cover". After paying the cover fee of $5 (we got there around 7pm on a Friday night), you are welcomed by a formal dining area with a beautifully lit liquor bar in the center of the room … Ignore this parlor room: Turn right and keep on walking … Lo and behold: The Beergarden Area!!! (Clouds part and you can hear the angels sing, "Ahhhhhhhh.") I've never been to a beer garden before but right off the bat, I was very impressed by the open space, huge windows and fresh air circulation. With these amenities, the beer garden feels like you're sitting outdoors … The best part about this hall is the choice of seating which can be described as picnic-ing with without the threat of annoying bumblebees and bad weather. I absolutely loved the communal seating arrangement! Cherry on Top: The huge variety of beer to choose from and food were super yummy from the grill area!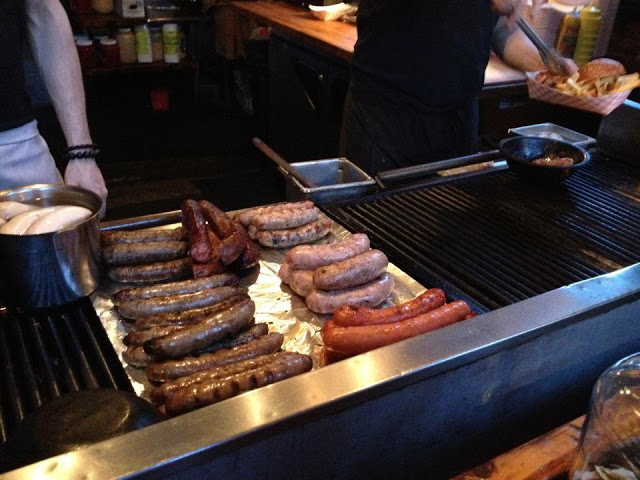 I've never seen so many tasty sausages in my life! (That's what she said …)
I will definitely be back again. If you're ever wondering of a place to hang and get some drinks with friends before the night crawlers come out, I highly recommend The Radegast Hall & Biergarten. Despite having to pay a cover fee so early in the evening, there is no denying that this place scores big on providing great environment for beers and sausage with a little shoulder rubba-dub-dubbin on the side :)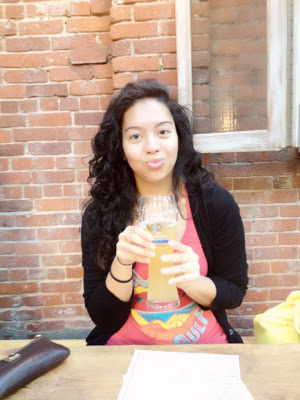 —
xo, Setarra
0