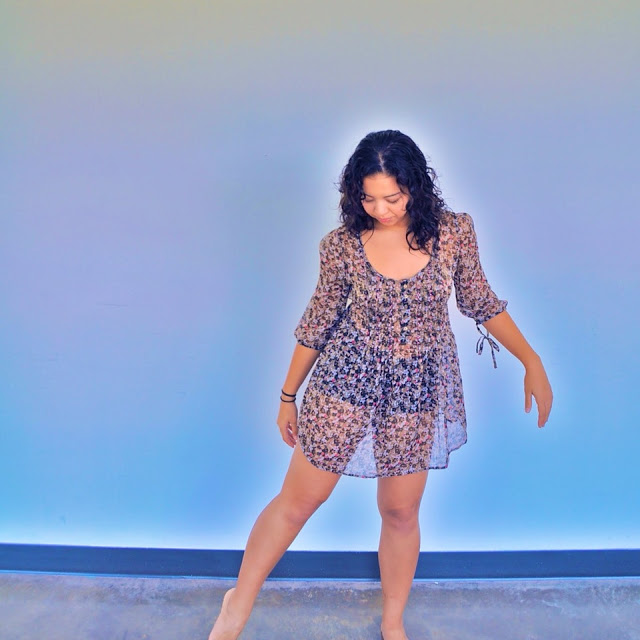 Like the pieces to a puzzle, I've spent this past year and a half trying to figure out and put together the corner pieces of this blog. But there is one last corner piece left to complete the framework before I can start filling in the complete image of this puzzle. And that last piece is sharing with you what
Quaintrelle
means to me … Consider this as somewhat of a re-introduction of myself and this blog's mission. A re-introduction that probably should have happened when I initially
changed my blog's name months ago
. I know, I know … I'm soooo 'organized' but better late than never right?
Quaintrelle (n.) a woman who emphasizes a life of passion through personal style, leisurely pastimes, charm and cultivation of life's pleasures.
Having read that definition, you're probably thinking, "Setarra, do you consider yourself a Quaintrelle since that's the name of your blog?" And my answer is, "Hail No!" By choosing to name this blog "Quaintrelle", I've thrown down the gauntlet. An open challenge unto myself to actively pursue a life as that of a Quaintrelle and to document said journey on this here blog. What does that mean exactly? Well, I thought it might be easier if I broke down the definition into different sections and go into detail about what you can expect to see on this blog in the future…
Personal Style:
Before moving down to Virginia, I got rid of 9 trash bags of clothes. Since I don't have that many clothes, I've been in a rut with wearing leggings and big shirts and tennis shoes most days. My style is always changing based on my mood but overall, I would say my clothing aesthetic is "urban chic with a touch of hip-hop bohemia". But right now, the style I imagine vs. the clothes I'm actually wearing everyday don't quite match. As such, I want to work towards investing (as cheaply as possible) in a wardrobe that fits who I am both inside and out …
Leisurely Pastimes:
Hobby, hobby, hobbies … 1) Since I started blogging, I've come to realize that I really enjoy taking pictures and capturing the world as I see it. Ultimately, I would love to buy a legit DSLR camera (Hello Canon!) and learn more about photography. Until then, my trusty iPhone pics are here to stay. 2) I want to explore the world… Charles and I are hoping to make a trip to France next summer to attend a close friend's wedding. But even if I'm not exploring the world, I want to maintain a passion for exploring what's in my backyard and be a proud resident tourist. It's all about building perspective. 3) In regards to food and drinks… I would love to take come cooking classes, learn more about wine, attend a beer conference, explore the restaurant scene in the DMV and obviously, eat more chocolate :)
Charm:
Am I charming? I'd like to think so … Does my personality shine through via this blog??? Personally, I think I'm a much more interesting person in real life. Unfortunately, I have this problem where my fingers get tired of moving from texting or typing too much and then at that point, I would rather communicate my message in person or on the phone… Same goes with this blog. That means this blog will probably only capture about 1/3 of what goes on in my life since I can only type but so much in a period of time. The other 2/3rd's? .. Maybe one day we'll meet over coffee or tea and you can decide for yourself if I'm as charming in person or not. There is no such thing as perfect. But I can afford to be more positive which is what I would like to focus on with this blog.
Life's Pleasures:
Pleasure equates to happiness for me. And what makes me happiest are the relationships I have with people, in particular with Charles, my family, friends, myself and dance… Yes, dance is a person in my world. I want to cultivate meaningful relationships with these people. It's so easy to just 'like' someone's status on Facebook … But I want to be more present in the moments that matter most. Which to me means finding a way to prioritize and balance everything I want to do (in the bullet points above) so that I can invest quality energy into the people I care about. As far as how I'm going to do that? I have no idea but I'm sure I'll mess up a few times before I get the hang of it … And that's ok. But what this ultimately means is that my approach to blogging will always be, "Live First, Blog Later."
And that, my friends, is what manifesting into a Quaintrelle means to me and what I'd like to achieve while in the pursuit of such a life of passion through this online platform. I had been feeling a slight disconnect between the name of this blog and its actual content so I hope this helps to tie it all together!

Facebook | Twitter | Bloglovin | Instagram
Linking Up With:
0